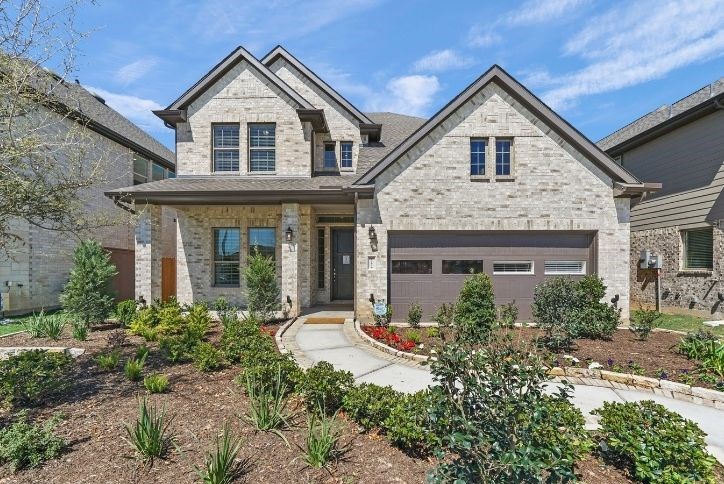 10 things to love about Chesmar's Medina model home in Elyson
This is part of a series of profiles of 12 new model homes now open in Elyson's new Model Home Village. Click here to see more model home profiles. 
Architectural drama and flexible floor plan options are both a big part of Chesmar's new Medina model home in Elyson's Model Home Village, which also includes Elyson's new Welcome Center.
The 5-bedroom Medina offers options for a home office, a media room and an extended covered patio, so homebuyers can easily customize it for the way they live. Whatever layout you choose, drama is included, thanks to soaring two-story ceilings and an open floor plan filled with light.
It was hard to narrow it down, but here are our 10 favorite things about this beautiful new model home, showcasing Chesmar plans priced from the high $300Ks in Elyson.
Outdoor living area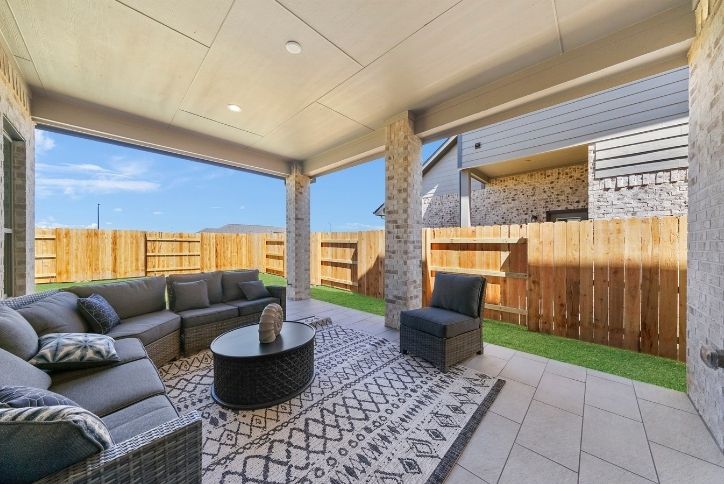 The Medina includes a covered patio as a standard feature, and our model displays the extended covered patio option available. With plenty of room for seating and dining arrangements, this patio is in sync with growing demand for outdoor living spaces that you can truly inhabit.
Guest suite or home office, your choice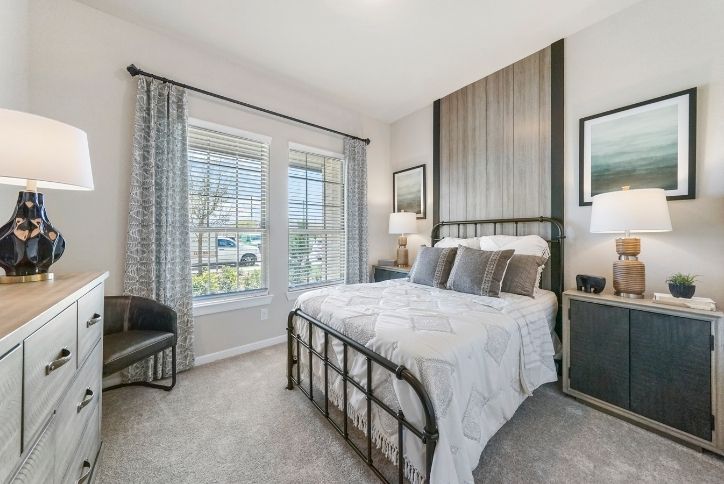 The Medina offers a choice of two features that are very popular with homebuyers today. The standard plan includes a downstairs guest bedroom suite with a walk-in closet and full bath. The thoughtful design makes it possible to use this bath as a powder room for the downstairs, while closing the bedroom door for privacy. For the growing number of homeowners who are telecommuting full or part time, this room can be built as a private home office.
Family gathering space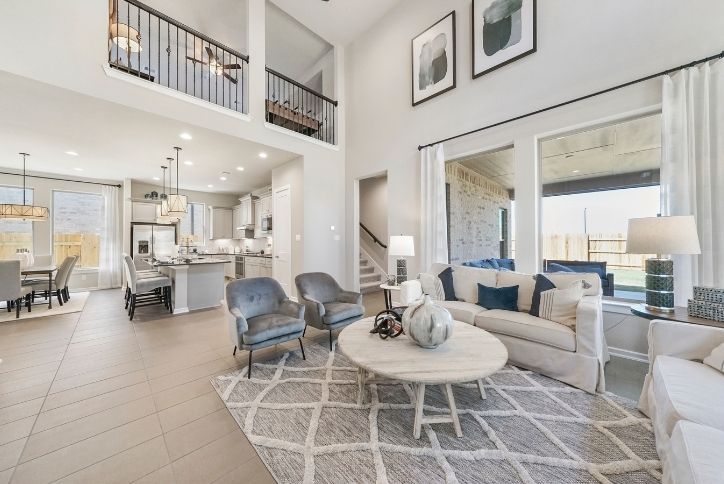 With its two-story ceiling and open layout, the Medina's family room offers functional volume in all directions. The corner fireplace adds a cozy focal point, especially with the fun freeform mirror décor above. Double-stacked windows flood this space with natural light, while also adding light to the upstairs gameroom as a bonus. This area flows effortlessly into the adjacent casual dining room and kitchen.
Creative bedroom walls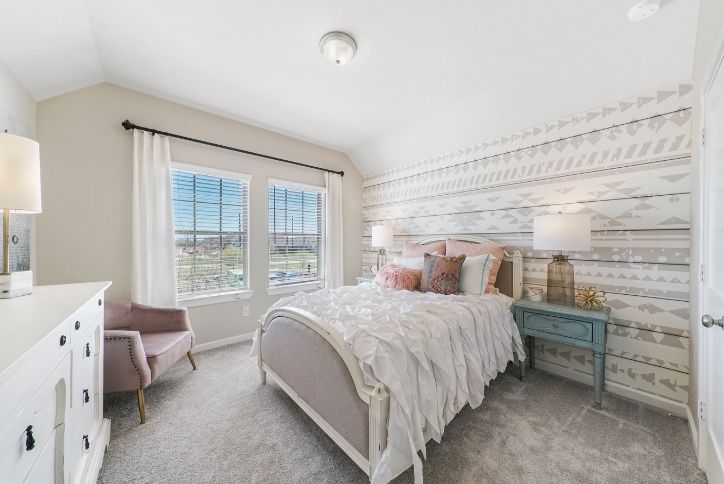 Bedroom walls are always a great place for builders and designers to express their creativity, and the Medina is no exception. One of the secondary bedrooms has a fun Fender Gibson guitar mural and related décor, while another combines a rustic "woodcut" mural with soothing pastel tones. The downstairs guest suite is a study in elegance, with a natural wood panel behind the antique-style iron bed.
Functional laundry room
It may not be the most glamorous room in the home, but the laundry room ranks as the number one priority for most homebuyers, according to the "What Home Buyers Really Want" survey from the National Association of Home Builders. With its central location near the garage, the Medina's spacious laundry room offers easy access from downstairs and upstairs bedrooms. Optional built-in cabinets add even more function.
On-trend kitchen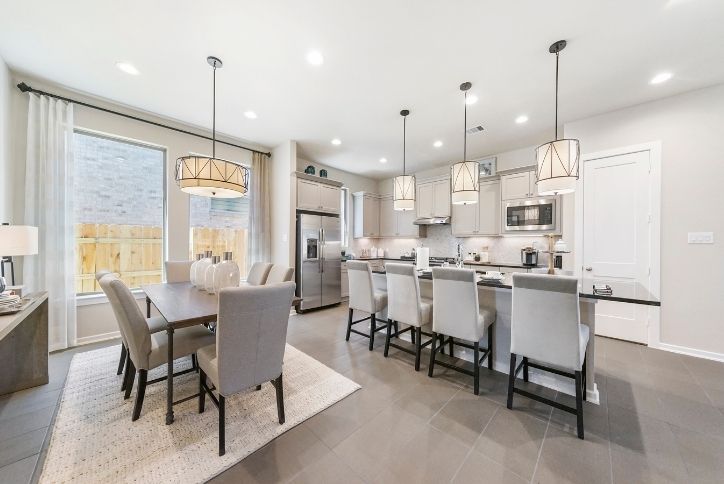 With its large central island, the Medina's gourmet kitchen is also on-trend with features that homebuyers have identified as essential, including a walk-in pantry, double sinks and energy efficient appliances. The island is big enough to offer bar seating for four, adding to the seating capacity of the adjacent dining area. The L-shaped cabinet and counter layout creates abundant prep and storage space.
Luxurious primary suite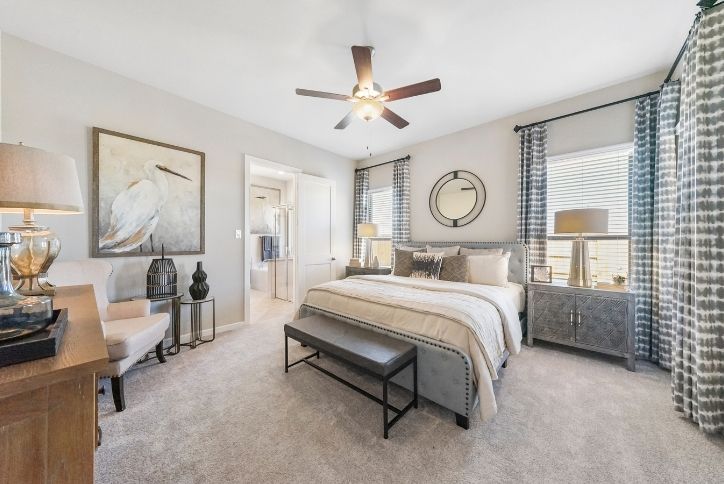 Well-secluded at the back of the main floor, the Medina's primary suite includes a private entrance with patio access. The main bedroom area and the luxurious bathroom are decorated with a fun coastal bird theme that complements the open, light-filled space. The bath has double vanities and a separate glass-enclosed shower. The walk-in closet is simply huge, making smart and efficient use of the space under the staircase.
Walk-in closets in every bedroom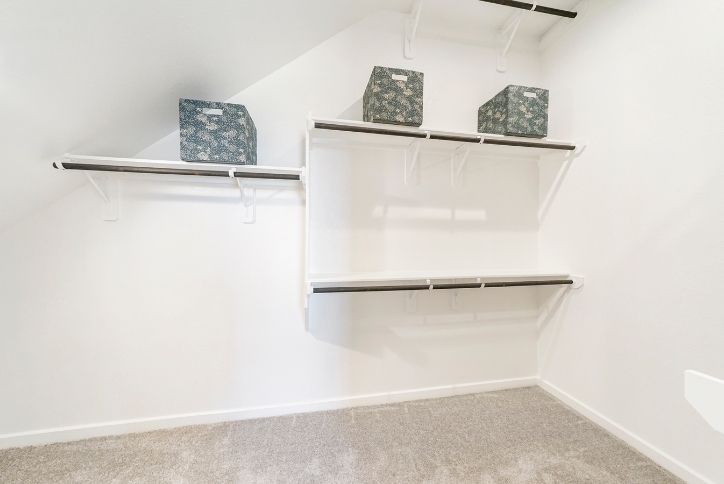 Storage is a strong suit for the Medina, which includes walk-in closets in all five bedrooms, especially in the primary suite. The two-car garage has a raised storage area, and this plan has several linen closets along with the walk-in pantry.
Family-size media room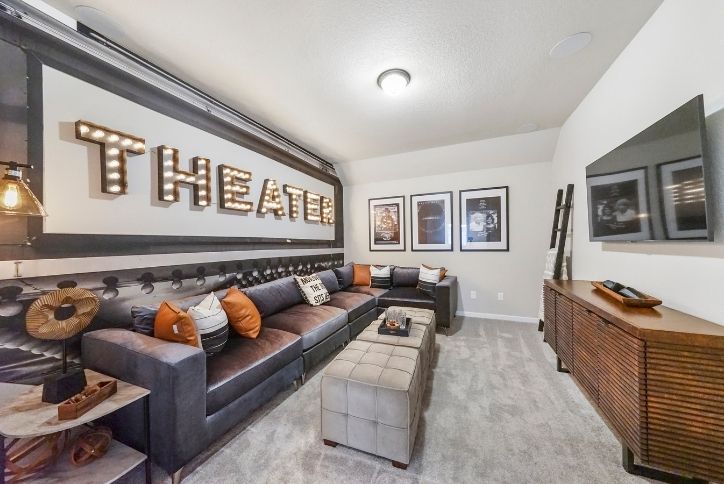 We don't know when we've seen a longer and comfier sofa than the one displayed in the Medina's media room – we'll take the end seat and the blanket, please. This sofa and fun "Theater" sign above emphasize the well-planned space of this room, which can be built in lieu of one of the upstairs bedrooms.
Gameroom with a view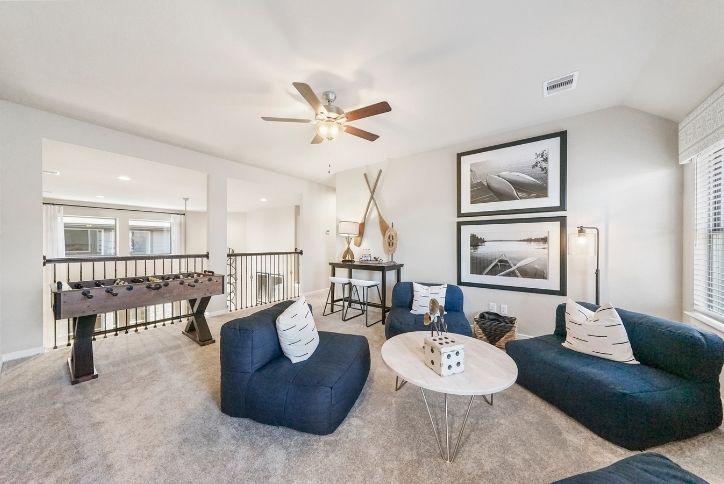 The Medina's gameroom is already spacious, and the iron railing overlooking the two-story family room extends it visually by adding even more natural light and openness. The cozy navy and white seating go well with the canoeing theme. With its shuffleboard and card tables, there's plenty of room for games in this gameroom.
See all new home plans offered by Elyson's leading homebuilders.