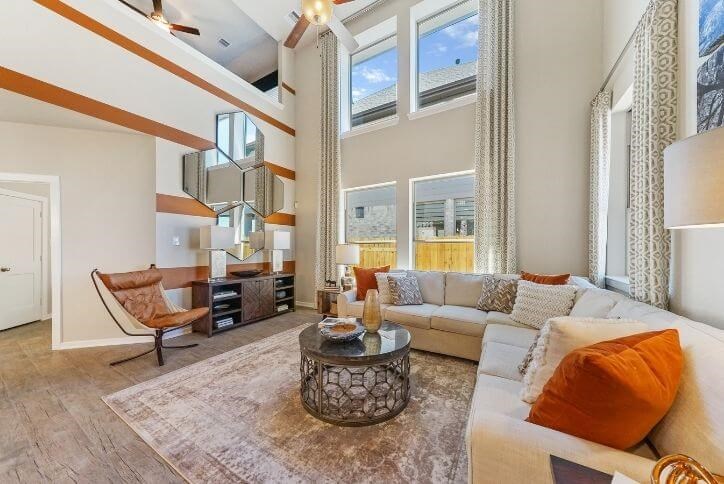 Model Home Features We Love – Walls That Wow
A well-known design adage says the quickest way to change a room is with paint.
That's true, but as the 14 beautifully decorated model homes at Elyson show, there are many more easy ways to make your walls stand out, including graphics, texture, natural materials and other elements. Some ideas are simply eye-catching. Others, such as wall-length built-ins, add function as well as visual appeal.
Here are our favorite ideas for walls that wow from Elyson's Model Home Village.
A wall that warms
One of our favorite walls is the textured brick fireplace surround in Highland's Plan 540 model home. Oversized for dramatic impact, this rustic wall creates a strong focal point that anchors the open family room and kitchen area. The rich brown color offers an earthy counterpoint to the cool white walls. The contrasting vertical and horizontal banding adds a chunky texture that coordinates nicely with the overall elegance of this model home. Whether the fireplace is burning or not, this is a wall that warms our hearts.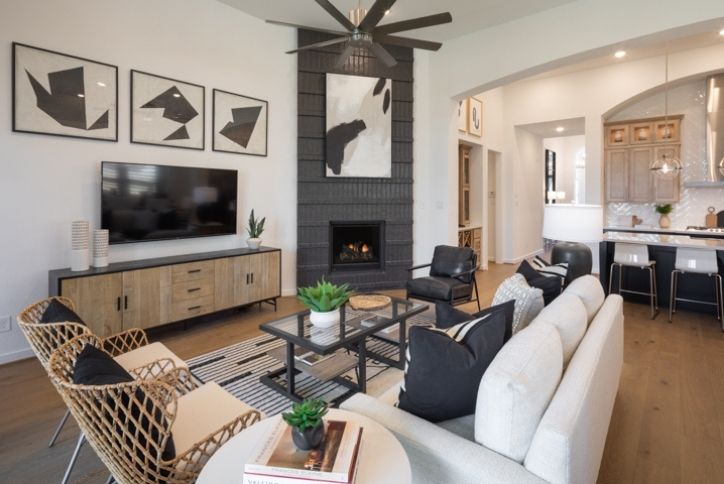 Stunning stripes
Who says a wall has to be a solid color?  Chesmar's San Francisco model home lets loose with orange horizontal stripes in the two-story family room. This fun visual technique emphasizes the two-story ceiling height and adds visual depth to this light-filled room. Furnishings and accessories coordinate with these lofty stripes – our favorites are the orange stools around the kitchen island. The view is open to the upstairs gameroom, which continues this energizing color scheme with a solid orange accent wall.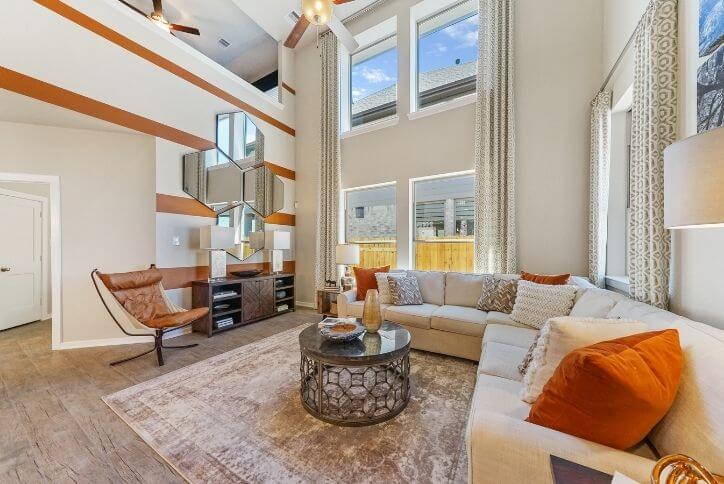 Inspiration wall
This creative "pin-it" wall in the upstairs loft of Beazer's Grand Rouge model home is attractive and versatile, whether you use it for inspiration, organization, education or just about anything else. The slate color is a warm alternative to the traditional whiteboard, and it contrasts pleasantly with the neutral paint on the other walls. Combined with the shelf units and the work island table, this wall transforms the loft into a good-looking space that is ready for work or play.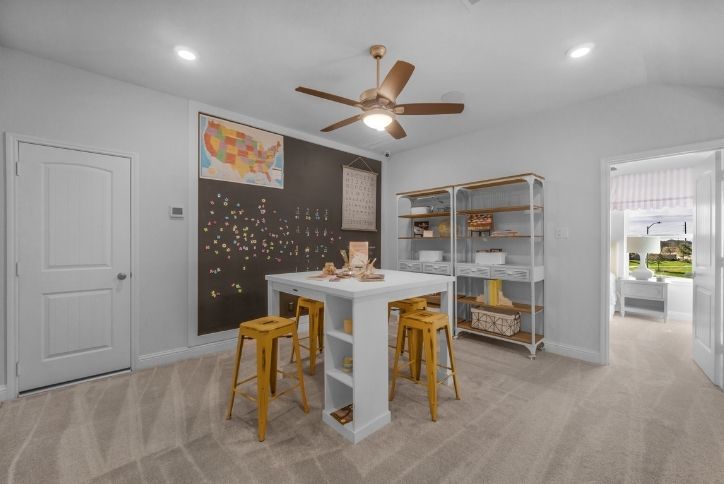 A backsplash that makes a splash
Not technically a wall, this tile backsplash in Lennar's Bennett model home is worth including for two reasons. First, the backsplash actually is part of the wall, and it's a high-impact area where a smart choice of color and texture can have a major impact. Second, this backsplash is the only feature that's not included in the base price of this model home, a showcase of Lennar's popular Everything's Included approach. Thus, this backsplash is a great example of how investing design dollars wisely can pay off big time.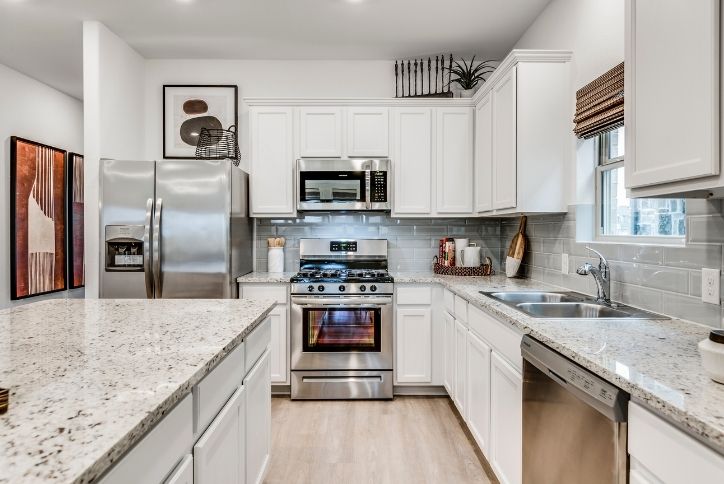 The drama of it all
If you can't go over the top with wall décor in the media room, where can you? We love this home theater room in Chesmar's Medina model, where the lighted marquee letters are the standout feature. The horizontal bands of molding, the contrasting paint colors and even the soundproofing material all add tantalizing texture and color to this room. Good thing the sectional couch is one of the longest and coziest we've ever seen, because everybody will want to hang out here.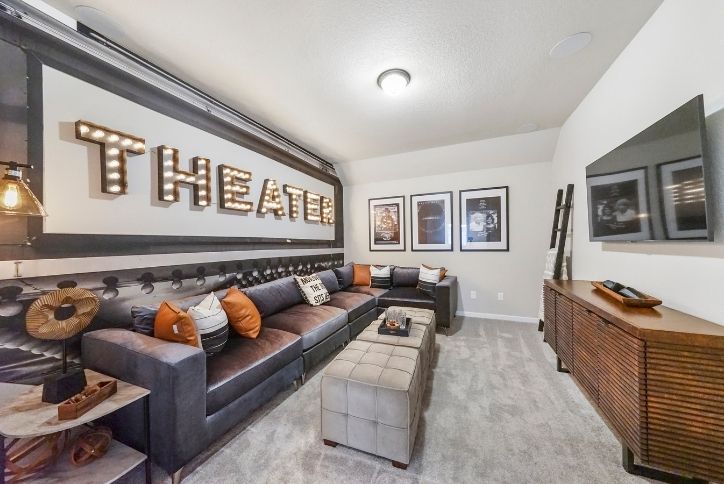 Headboard walls
Throughout Elyson's Model Home Village, you can find many examples of colorful accent walls in bedrooms, most of them as focal points for positioning the headboard. One of our favorites is in the primary suite of Pulte's Amherst model home. Here, vertical strips of wood are attached to the wall, with narrow gaps left in between the strips to imitate vintage shiplap. Painted a middle shade of green, this wall is the perfect counterpart for the light-filled sitting area next to the bed. It also offers a nice grounding effect in a suite where the coffered ceiling reaches a lofty height.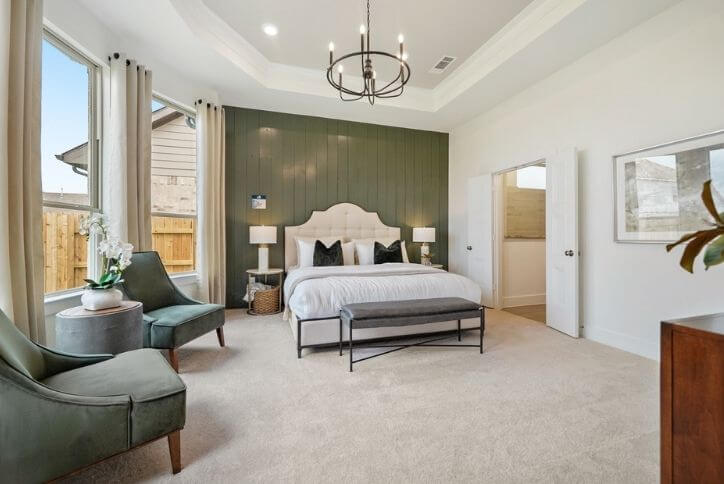 More bedroom walls
Secondary bedrooms offer more places for builders to show their wall creativity. Chesmar's Medina model home is a great example. One of the secondary bedrooms has a fun Fender Gibson guitar mural and related décor, while another combines a rustic "woodcut" mural with soothing pastel tones. The downstairs guest suite is a study in elegance, with a natural wood panel behind the antique-style iron bed.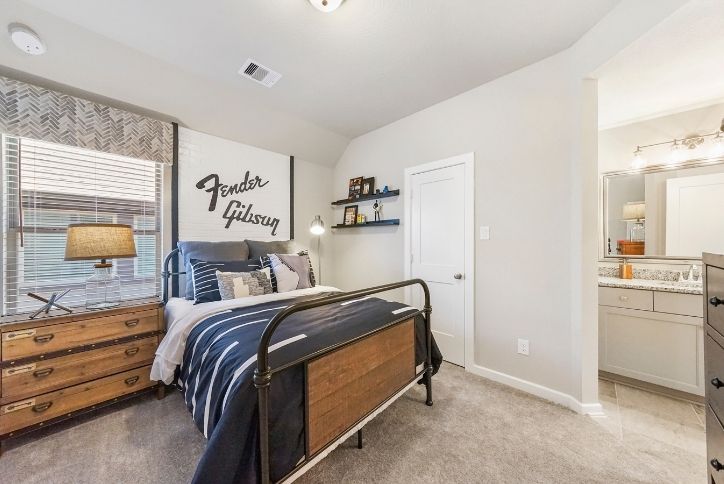 Built-ins for function and beauty
More of us than ever are working remotely, making studies an essential feature in today's home designs. Highland's Plan 216 model shows how a study be highly functional and also one of the most attractive rooms in the home. The built-in workspace covers an entire wall, combining ample desktop space with open shelving and a cabinet with large compartments and sliding drawers. The subtly textured wall behind this built-in unit nearly matches the color of the wood, creating a soothing tone-on-tone scheme sure to increase productivity and concentration. The single-pane French doors are a smart touch, as you will surely want to show off this room.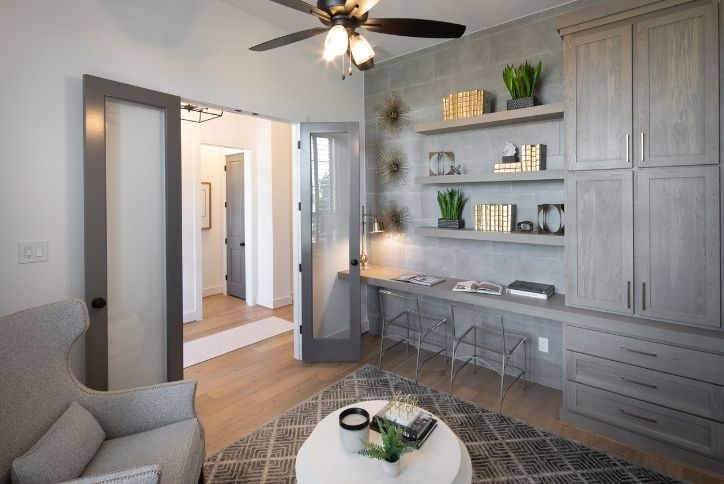 Learn more about all of the 14 fully furnished model homes at Elyson.