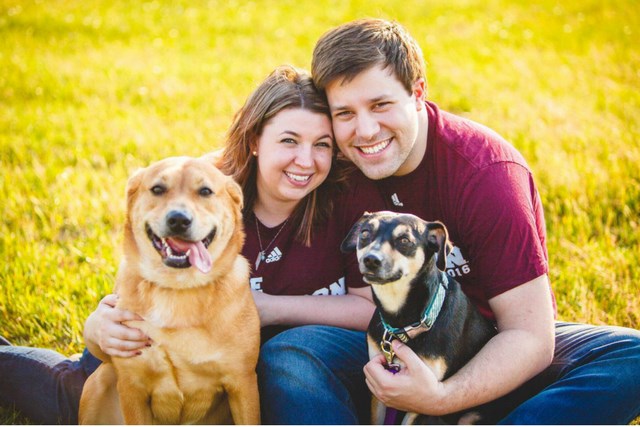 Beth and Scott Henderson look ahead to starting a family at Elyson
Beth and Scott Henderson, one of the Founding Families of Elyson, became excited about the idea of living in Elyson right after the community was first announced in the local media in 2014.
"We definitely wanted to live in a master-planned community, as opposed to just a neighborhood," said Beth. "We want to start a family one day, and the idea of having a brand-new Katy ISD school so close to the community was a huge draw for us.
Beth and Scott kept watchful eyes as Elyson took shape on the Katy Prairie, and they visited the builders as soon as the temporary sales centers opened. For Scott, who lived in Cinco Ranch since he was a young child, the fact that Elyson was another Newland community provided a lot of peace of mind.
Even before the Hendersons move into their new Highland home in February, they're taking advantage of every opportunity to visit Elyson and get to know their neighbors. They attended Elyson's preview party in September, and they visit regularly to check the progress on their new home, located on a cul-de-sac homesite within easy walking distance of Elyson Café. The Hendersons also plan to come to Elyson's first resident event in November, an outdoor movie on the event lawn at Elyson House on Saturday, November 12th.
"We love the fact that Elyson House was already open on day one," Beth said. "Scott will get a lot of use out of the lap pool, and we're both excited about using the fitness center, which is awesome."
Elyson's location is very convenient for both Beth, a claims adjuster, and Scott, a chemical engineer who works in the Energy Corridor. "We love that Elyson is located north of I-10 and right off the Grand Parkway," Beth said.
The couple chose Highland's Plan 558 home because of its option for a three-car tandem garage, and a floor plan that provides the right balance of open living areas and private spaces. Abundant storage space was another big plus.
For now, the Henderson family includes Beth, Scott, dogs Cinnamon and Suma, and a cat. We look forward to welcoming them all to Elyson in early 2017!