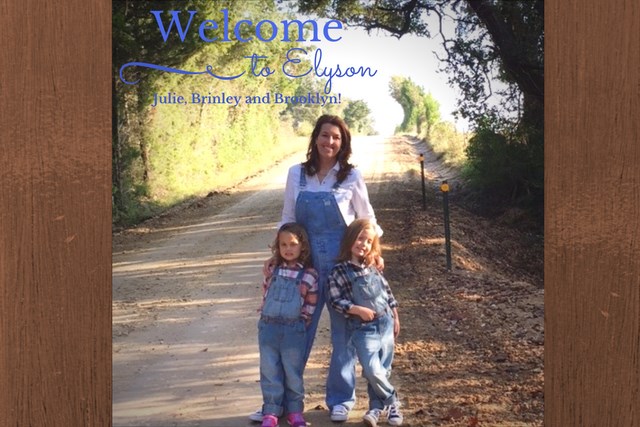 Katy ISD teacher Julie David and twins happy to "dig in heels" at Elyson
Even though her twins are still in elementary school, Julie David has a long-term vision for their new life at Elyson.
"We're very happy to dig in our heels and stay here until they graduate from high school, if not longer," said Julie, a P.E. teacher and coach in the Katy Independent School District.
The family's morning commute is an easy one. The twins go to school at Bethke Elementary, located about two miles from Elyson, and Julie is a teacher and coach at Stockdick Junior High School.
Stockdick and Paetow High School are both new Katy ISD schools opened in 2017 right next to Bethke Elementary, creating a K-12 tri-campus just minutes from Elyson.
Julie said her six-year-old twins, Brinley and Brooklyn, loved their first year at Bethke.
"Brooklyn was the only kindergartener to be selected for the Gifted & Talented program, which she'll continue in first grade," she said. "Overall, the facility and the technology are awesome, and both of the girls adore their teachers."
Having lived in Cinco Ranch and another Katy community for several years, Julie started thinking about moving north of I-10 when the Grand Parkway opened all the way to I-45 North.
"When I heard that Newland had bought the land and was planning a new community, I knew this was where we wanted to be," she said. "My parents live in Spring, and it's so easy to visit now that the Grand Parkway is open. Elyson is the perfect place to be, offering the best of both Katy and Cypress."
Elyson House, Elyson's new community center, was also a priority for Julie.
"At Cinco Ranch, we saw how a wonderful community center could bring neighbors together," she said. "When we moved out of Cinco Ranch, our next neighborhood didn't have that, so when we saw the plans for Elyson House, we knew Elyson was where we wanted to be."
Julie and the twins have enjoyed all of Elyson's community events so far, and the girls love experiencing poolside service from the Elyson Café during the summer.
Julie is also very impressed with the fitness center at Elyson House. "I love working out there," she said. "It's so state of the art and comprehensive, I've canceled my gym membership."
Julie chose a one-story Pulte home in Elyson, having owned a Pulte home before. "The personal planning center that's right off the kitchen is great. It provides just the right amount of space for a home office, without having to take up one of the bedrooms for that purpose," she said.
To hear more stories of why our residents chose Elyson, click here.