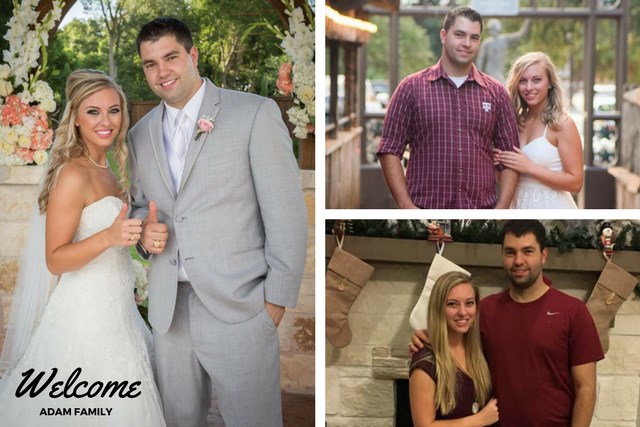 Location, lifestyle sell the Adam family on Elyson
One of the Founding Families of Elyson, Brandi and Zachary Adam moved into their new home in November, just in time to enjoy one of the community's first events, a visit with Santa Claus.
Married last June, the Adams don't have children of their own yet, but Brandi's young nephew really enjoyed Santa's visit.
Looking ahead, they are excited about the highly regarded Katy ISD schools that serve Elyson, with three brand new K-12 schools on the nearby tri-campus.
"We didn't hesitate to buy in Elyson even before the first home was completed, because Newland has such a great reputation," said Zachary. "We also love the idea of getting in at the very beginning, which we think will be a great investment in our own future."
Both Brandi and Zachary grew up in Cypress and have been sweethearts since their high school days – her at Cy-Fair High and him at Cy-Creek.
They both graduated from Texas A&M, and they love the fact that Elyson's location bridges both Cypress and Katy.
"We both have big families, so the location along the Grand Parkway, right between I-10 and U.S. 290, makes it easy to get to and from the Cy-Fair area," Brandi said.
Elyson's location also makes it easy for Zachary to commute to his job with Waste Management. "My job is located right off of I-10, so it's a very easy straight shot to get to work," he said.
For Brandi, who works in marketing at Highland Homes, Elyson's location makes it easy to get to the builder's other communities throughout the Houston area.
The Elyson House was another feature that the Adams loved about Elyson. "The amazing fitness center was a big selling point for us, and we have really enjoyed the Elyson Café," Brandi said.
With spring coming soon, the couple looks forward to spending more time along Elyson's trails with their two dogs, Ranger and Shiner.
They chose Highland's Plan 204, also showcased as a decorated model home in Elyson.
"We love to entertain and have big groups of family and friends over, so the open concept living, dining and kitchen areas are perfect for us," Brandi said. "Our homesite backs up to one of the waterways in Elyson. It's a nice view and the dogs love to jump in the water."
To read other resident's reasons for choosing Elyson, visit here.