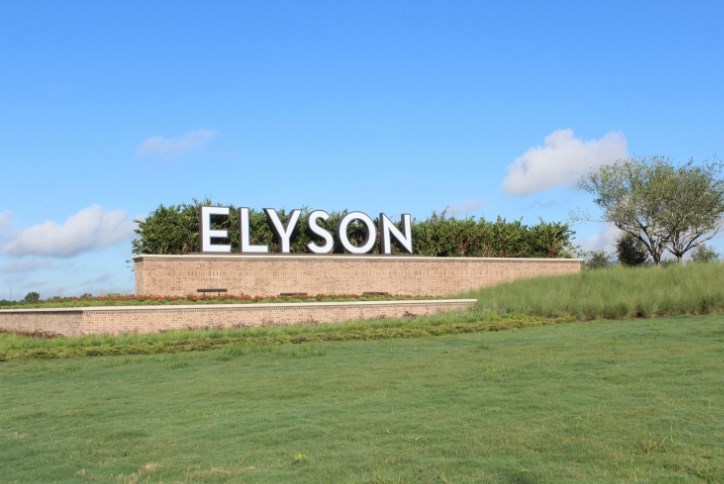 Elyson's new entrance is a monument to a great location
Elyson has a new main entrance at Grand Parkway and FM 529, and it's a beauty, landscaped with mature trees and colorful flowers, with a design that echoes the Prairie Style architecture of Elyson House, the community's flagship amenity.
Elyson's new entrance is also a gateway to convenience for residents, providing quick and easy access to the best of the Katy and Cy-Fair areas. Elyson's location along the Grand Parkway is approximately midway between I-10 West and U.S. 290 West, providing them with convenient access to major employment centers such as the Energy Corridor, and offering countless choices for shopping, dining and entertainment.
In celebration of Elyson's new entrance, here are 9 things that make our location second to none.
Schools. Elyson is part of the highly rated Katy Independent School District, and our kids attend a state-of-the-art K-12 tri-campus located just a few miles from the community. A new child care facility, Kiddie Academy, is planned to open in 2019.
Higher ed. The University of Houston plans to open its Katy campus near Elyson in 2019.
Shopping & more. From big-box superstores to unique boutiques, Elyson is close to all kinds of shopping attractions.
LaCenterra at Cinco Ranch. Located in our nearby sister community of Cinco Ranch, LaCenterra at Cinco Ranch offers shopping, dining and entertainment. Central Green Park offers free events such as concerts and outdoor movies.
Commuting ease. Elyson is near METRO's popular Grand Parkway Park & Ride facility, offering express service to downtown Houston.
Healthcare. Elyson is near a growing number of hospitals in the Katy area, including Memorial Hermann, Methodist and Texas Children's.
Parks. Elyson is close to a growing number of Katy area parks, including the new John Paul's Landing Park.
Something for everyone. Elyson's location is close to many attractions and entertainment venues that appeal to everyone from kids to retirees.
It's all right here. From fun events at Elyson House, to Friday night dinners at Elyson Cafe, Elyson residents can enjoy many kinds of activities and adventures without ever leaving the community. Learn more about our lifestyle.
To start exploring homes in Elyson, visit our interactive Homefinder.