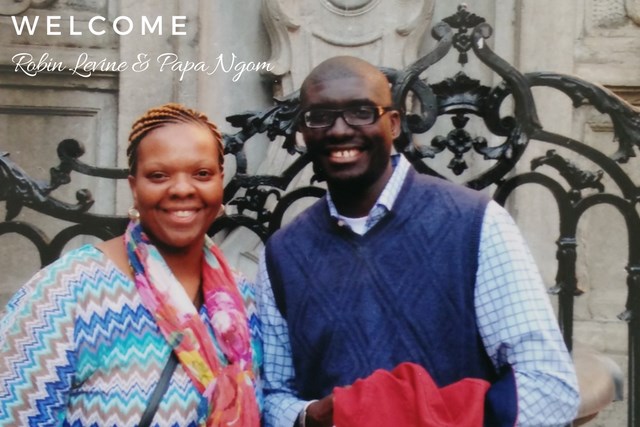 Robin Levine: "We're happy to be in Houston, and even happier to be in Elyson!"
Dr. Robin Levine recently took time out of her busy schedule, monitoring Federally Qualified Health Centers for compliance with federal legislation, to share how she and her husband, Papa Ngom, discovered Elyson as they relocated from Maryland. Here's their story, in Robin's own words.
My name is Dr. Robin Levine, but I'm more affectionately known as Dr. Robin, or simply Robin. I'm native to Baltimore, and Texas is the fourth state I have lived in outside of Maryland, and the only one in the "real South."
Papa Ngom is my husband and he is native to Senegal, located in West Africa, directly across the Atlantic Ocean from South Carolina."  Papa works in management at Whole Foods, Inc., and I work for the federal government. My work is based out of Rockville, Maryland, and I am able to 100% telework from Houston.
Papa and I first visited Houston in September, 2015, and we permanently relocated in February, 2016, after Papa accepted a position at the Whole Foods store in Bellaire. Papa decided that we would live in Northwest Houston after looking through a relocation packet.
We became big fans of Perry Homes, especially their designs with spiral staircases and rotunda ceilings, which Papa loved. We were originally going to purchase a home in another community, but we but decided to look at Elyson after our sales agent was transferred here.
I attended Elyson's preview event, before the public grand opening, and decided that I would "sell" the community to Papa once he came back from visiting family in Senegal.  Papa immediately fell in love with the master plan and vision for Elyson, and we both liked the easy access to the Grand Parkway. We don't have any children, or pets, but we decided that Elyson represented the best potential for return on our investment.
We purchased the Design 3299 floor plan from Perry Homes. We love the floor plan, and I had received multiple positive reviews about Perry. When traveling for work, I would discuss our potential builder pick with people I would meet in the airport.  I was repeatedly told the same thing: "You can't go wrong with Perry Homes." 
The one thing we like best, other than our home, is the thoughtful and diligent planning that Newland has put into creating a positive experience for residents. We plan to eventually live between Senegal and the United States, and our home here in Elyson will serve as our "U.S. home base." 
We enjoy the community events that allow us to meet our neighbors.  We are happy to be in Houston, and even happier to be in Elyson!
One last thing: Go RAVENS!!!