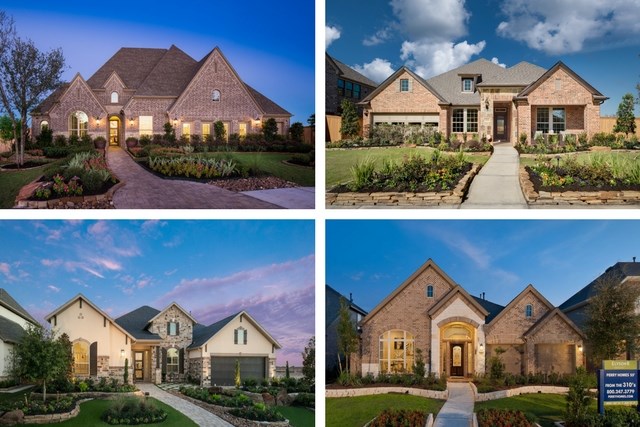 Elyson builders offer many choices for popular one-story home plans
Called "ranch" plans in some parts of the country, one-story floor plans are as popular as boots and pickups with homebuyers of all ages in Katy and Texas. Elyson and its leading homebuilders offer many one-story homes to choose from, with the open-concept interiors that today's buyers want.
Four of the 10 fully furnished model homes in the Elyson Model Home Village feature one-story plans, and Elyson has more than 50 single-story plans available to build in all price ranges, from the mid $200,000s to $600,000s.
Texas looms large when it comes to residents' love for one-story home plans. A recent report from the National Association of Home Builders found that 55% of new homes built in Texas are single-story plans, the highest percentage in the country.
Another NAHB report found that 68% of all homebuyers prefer a single-story home. The preference was strongest among Baby Boomers and seniors, with large majorities favoring homes without stairs. Significant percentages of Generation Xers (49%) and Millennials (35%) also said they favor one-story homes.
Along with single-story homes, homebuyers across generations share an overwhelming preference for open floor plans. An NAHB survey found that 70% of all buyers preferred a home with a completely or partially open layout, and 32% said they preferred a completely open layout.
A tour of Elyson's Model Home Village shows how today's home designs have become very open.  You can feel it in two-story plans as well, but it's especially appealing in one-story plans.
David Weekley's Roth model and Trendmaker's Plan F-790 model, both one-story plans, show how builders are combining family room, kitchen and casual dining areas. Adding to this open feeling, these informal living areas have doors and windows that overlook outdoor living areas, creating visual and physical connections between these spaces.
Models such as Highland's Plan 204 show how one-story plans can accommodate three- and four-car garages while maintaining an attractive exterior.
While most homebuyers probably think of gamerooms as being on the second floor, Perry's Design 2738 model effortlessly incorporates a gameroom into its one-story, four-bedroom plan.
For homebuyers who want something in between a one-story home and a two-level design, several Elyson builders offer the perfect compromise: a one-and-a-half story plan. These popular plans offer most of the living space on the ground floor, with a spacious gameroom upstairs. Often, the gameroom includes a wet bar and a full or half-bath. In many cases, a homebuyer can opt to build the gameroom as an extra bedroom, or add an upstairs bedroom as additional space.
Elyson offers virtual tours of all of its model homes, and our convenient Homefinder tool lets you search for one-story plans that are ready for quick move-in or available to build.
For a personal introduction to Elyson's master plan for 750 acres of recreation and natural open space, and its top-rated Katy Independent School District schools, visit our largest and most inviting single-story house: Elyson House.