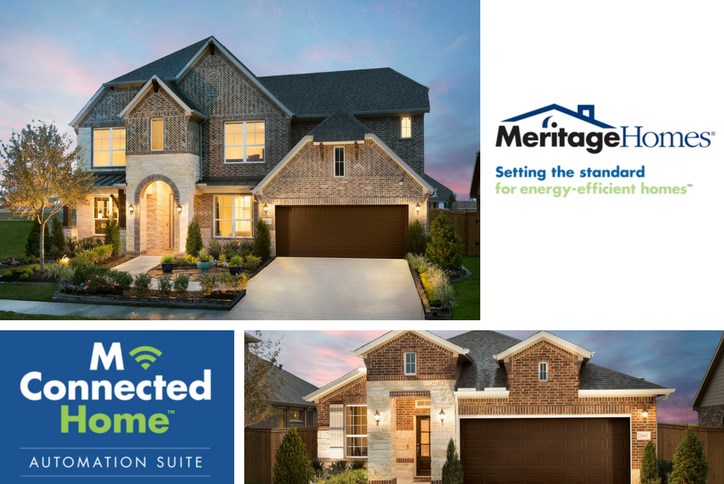 From video doorbells to smart locks, every Meritage home in Elyson includes automation features
Every new Meritage home in Elyson includes the builder's M.Connected Home Automation Suite, which allows homeowners to monitor and control key components of their homes, such as Wi-Fi-enabled lighting, video doorbells, thermostats, smart door locks and more. 
The M.Connected Home Automation Suite includes Wi-Fi-enabled home automation features like: 
Wi-Fi-enabled video doorbells that allow you to "answer" your door from the palm of your hand, capture any unexpected motion on camera, video chat with visitors, or let the deliveryman know that it's safe to leave a package at the door.
Smart door locks that give you a virtual spare key. You can ensure your door is always locked or allow access to visitors from anywhere with your smart device. 
Wi-Fi-enabled light switches that pair directly with your home Wi-Fi network. This allows remote management and scheduled lighting at your entryway for enhanced security, convenience and ease of use.
Wi-Fi-enabled thermostats that allow you to remotely adjust the thermostat from a smart device. Its sophisticated automation technology regulates the heating, cooling, fresh air ventilation, and humidity control functions.
Advanced garage door openers that allow smartphones to act as additional garage door openers. Whether you're away from home or already tucked into bed, you can feel secure knowing your garage door is closed.
Advanced weather-sensing irrigation that allow the irrigation controller to pull and respond to local weather data to reduce water waste, allow for smarter programming and keep landscaping healthier throughout the seasons.
Meritage designs every home with a centralized location for the homeowner's Wi-Fi modem, and the Automation Suite can adapt and expand as technology changes or owners' needs fluctuate.
All of the features are intended to be compatible with various smart speaker control devices, such as Alexa, Clare, Nexia, Google Home, Vivint and many more.
Homeowners are also able to choose from additional offerings and advanced functions in the design center.
Meritage offers new homes in two Elyson neighborhoods. New homes priced from the $220,000s are offered on 45-foot-wide homesites, and new homes priced from the $330,000s are offered on 60-foot-wide homesites. Meritage also showcases two fully furnished model homes in the Elyson Model Home Village.
See new homes by Meritage and all of Elyson's leading homebuilders with our convenient Homefinder tool.