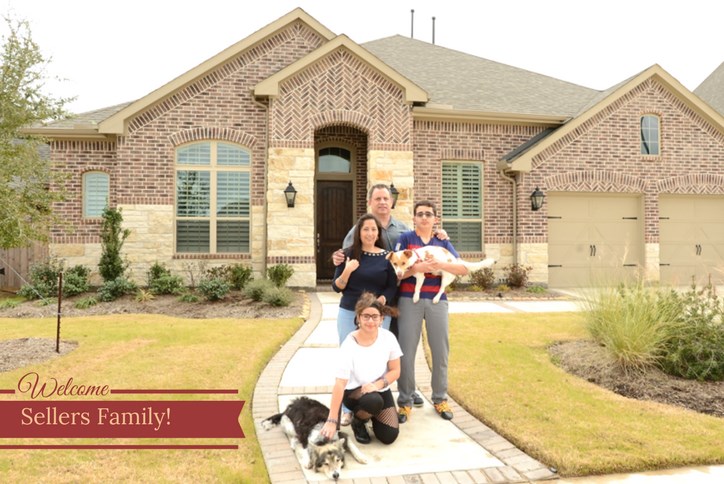 Tail wagging, Riley becomes part of the Sellers family in Elyson
When Paul and Martha Sellers visited Elyson for a special event last year, while their new Highland home in the community was under construction, they had no idea they would meet a future family member that same day.
As they got out of their car with their two children, Paul and Martha were greeted by a small friendly dog, who would soon come to be named Riley.
Riley immediately took to the Sellers family, which includes Nicholas, 14, and Daniella, 11. In fact, she seemed so right at home with them that an Elyson community representative asked if they could put her on a leash for the event.
"We had to laugh and say, 'sorry, she's not our dog,'" recalls Martha Sellers, a Realtor with Apex Brokerage, LLC. "We had a great time that day at Elyson, enjoying a spring festival and seeing our future home under construction."
But Riley made a lasting impression on the Sellers family. On Monday morning, Paul asked, "What happened to that dog at Elyson? She was so cute."
Martha checked in with their Highland salesperson, Danny Day, and found out that he had taken the dog during the weekend event, and still had her at his own house.  "Danny asked me if we'd like to foster the dog until she found her forever home, and I immediately said yes," Martha said.
A visit to the family vet revealed that Riley was about 18 months old, and was most likely a mix of beagle and Jack Russell terrier.  "She is so full of energy, and she is a great companion for our other dog, Shadow," Martha said.
Like Riley, Shadow is a rescue dog, a husky and chow mix who is about 15 years old.
The family still doesn't know where Riley came from, because she didn't have a chip or any other kind of identification. But one thing is for sure: she's a full-fledged member of the Sellers family now, and she loves playing in the backyard of their new home, and going for outings along the trails.
"We love Elyson, and we knew from living in Cinco Ranch that Newland always does a great job in creating a master-planned community," Martha said. "Elyson still feels like the country, even though it's very convenient to our lives in Katy."
The Sellers chose a homesite that has views of one of Elyson's lakes, with a ravine and trail in the background.
"We have beautiful views of the sunrises and sunsets every day, and that's one of our favorite things about living here," Martha said.
Want to Join Riley and her family in Elyson? See available homes with our convenient Homefinder. And here are some local resources for adopting a loving dog of your own.