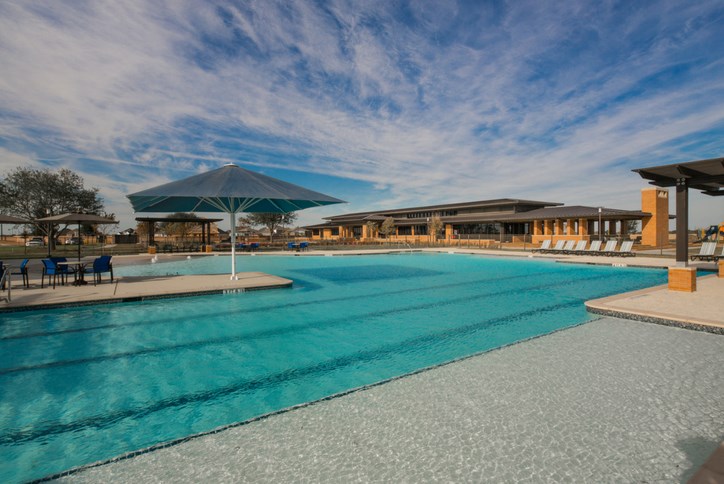 Year 'round swimming is one of many unique activities offered at Elyson
As the summer swim season gets under way, pools are opening in many Houston area communities. At Elyson, the swimming pool at Elyson House never closed.
Open for swimming 365 days a year, Elyson's pool is unheated but still enjoyed by many residents who take advantage of Houston's often-mild weather in spring and fall.  
Year 'round swimming is one of many unique amenities available to residents of Elyson. Here are some more:
Elyson House, winner of a 2018 Houston's Best award, features Prairie-style architecture inspired by Frank Lloyd Wright. Along with its pool, it offers tennis courts, a covered playground, and an event lawn that hosts events such as the recent Great Get-Together picnic and concert and outdoor movie nights. Inside, Elyson House offers a fitness center, a meeting room, and a gameroom with foosball, ping-pong and more.
Elyson Cafe, located in Elyson House and open to residents and the public, has a new summer menu with several varieties of international gourmet burgers. The extensive menu also includes pizzas, salads, smoothies, coffees and more. Poolside service and take-home meals for four are also offered.
Pickleball and bocce ball will be offered at Elyson's newest park, opening this fall. This one-acre park will also have a shade pavilion and a lakeside firepit.
Elyson has miles of trails that meander through meadows of wildflowers and past scenic lakes. About 30 miles of trails are ultimately planned.
Community orchards invite residents to pick their own citrus fruits and nuts in Elyson.
A Lifestyle Director plans a year-round calendar of activities for residents, including Story Time, Baby Boot Camp, Movies in the Park and more.
Learn more about Elyson's lifestyle, and see our community plan, which devotes more than 750 acres to parks, trails, lakes and natural open spaces.