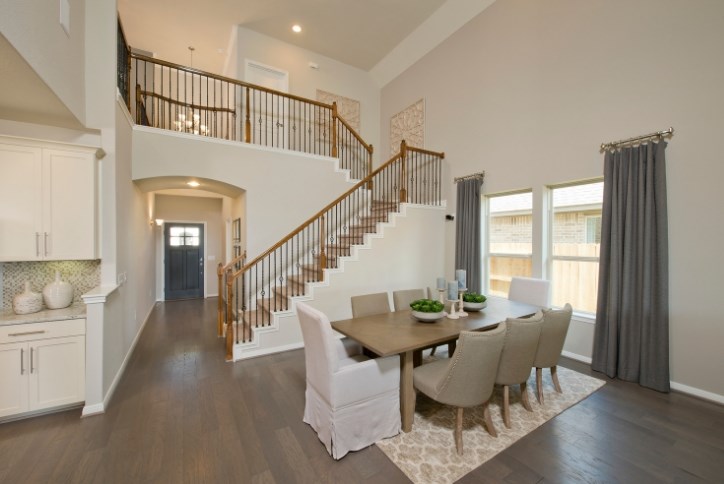 5 home plans at Elyson that offer more space for your life
Whether you have a new kid, a new dog, or just feel like you're bursting at the seams in your current home, you're not alone. Real estate experts say the need for more space is one of the top reasons that people in all life stages decide to move up to a new home.
Here are 5 Elyson home plans that fit the bill for homebuyers looking for more space for different reasons.
More room for cars – and stuff. Many home plans at Elyson offer three-car garages, and some offer options for 3.5- and four-car garages, where the homesite allows. An extra-large garage can offer extra space not just for parking cars, but for storage and workshop space. Highland's Plan 204 model home in Elyson is a great example of a plan with multiple garage options.
Room for family and guests. Darling's Design 7445 model home has a downstairs guest suite with a full bath and a walk-in closet. That makes it perfect for guests or family members who want a private bedroom on the ground floor. The primary bedroom suite is also downstairs. For a guest suite with even more space, Darling and other Elyson homebuilders offer multigenerational homes.
Space for…whatever. Many home plans offer flex spaces that can be built as a study, extra bedroom, hobby room, or whatever your needs may be. Pulte's Amherst model home offers a downstairs flex space along with several other customizing options.
Outdoor living space. Anyone who's lived in an apartment or townhome knows how many balconies and patios offer barely enough space for a chair or two. At Elyson, many plans such as Chesmar's Poplar offer spacious front porches and covered back patios. Backyards are a great feature too, offering play space for kids and dogs.
Office space. A growing number of us are working from home, either fulltime or at least part of the week. Plans such as Meritage's Brazos offer different choices for creating a home office. Located off the family room, the pocket office provides a productive workspace that's right in the middle of everything. The flex space near the front door can be built as a traditional study with French doors. For an even more private home office, an optional upstairs loft can be added to this one-story plan.
Explore all new home plans in Elyson with our Homefinder.