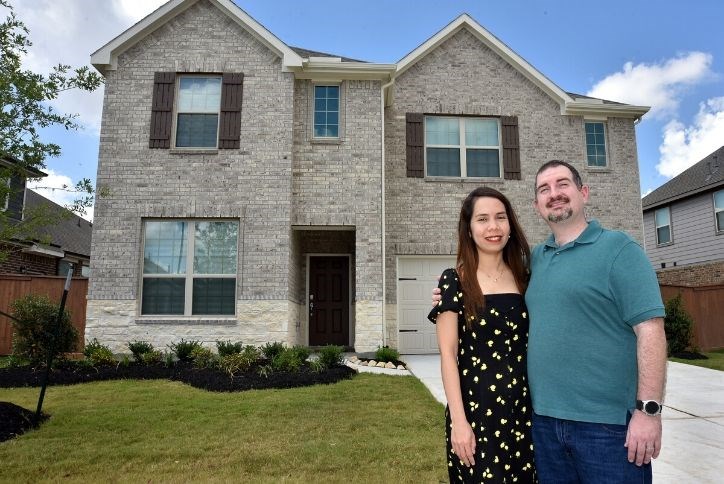 A growing family finds home in Elyson
After being married for a year, Stephen and Rina Schuler decided they wanted to purchase their first new home together at Elyson. Some of Rina's friends had already moved to the community, and they all loved Elyson's "quiet, peaceful feeling" and its highly regarded Katy ISD schools.
It didn't take long for the Schulers to decide that the new home they wanted in Elyson was the two-story San Marcos from Pulte.
This four-bedroom home would give them plenty of space to start a family and accommodate visitors. Stephen, who has been working from home as a tech support specialist, appreciates the home office. And because they both love to Netflix and chill, the loft makes a perfect media room.
The only little snag was that they wanted to see a completed San Marcos home before committing, and the closest one they could tour was in Dallas.
"We decided to celebrate our first anniversary with a trip to Dallas. It was a lot of fun, and we got to walk through a San Marcos that was almost completed," Stephen says.
Stephen and Rina moved into their new Elyson home in late May.
"We think that we still have the only San Marcos plan in all of Houston," Stephen laughs.
We can't confirm that, but we can report that the Schulers love their new Pulte home.
"We took a leap of faith, since the San Marcos we saw was just being drywalled, but we absolutely love it," Stephen says.
Elyson's location was also good for them, since Stephen works downtown (though he has worked from home since March and hopes to continue to do so) and Rina works at Memorial Hermann in Memorial City.
The spaciousness of the San Marcos will come in handy by the end of the year. The couple is expecting their first child in December.
Meet more Elyson families.