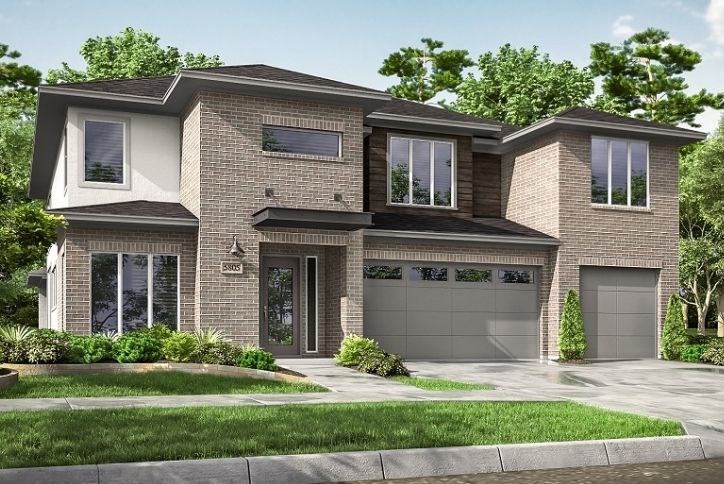 Taylor Morrison introduces the Darling Modernist Collection at Elyson
For homebuyers who love modern design but want to live in a master-planned community with Katy ISD schools and hundreds of acres for recreation, Taylor Morrison's new Darling Modernist Collection in Elyson might be just what the architect ordered.
Pre-grand opening sales start December 4 for the Darling Modernist Collection, offered in a lakeside Elyson neighborhood with a limited selection of 24 waterfront homesites. A fully furnished model home will be unveiled in spring 2022.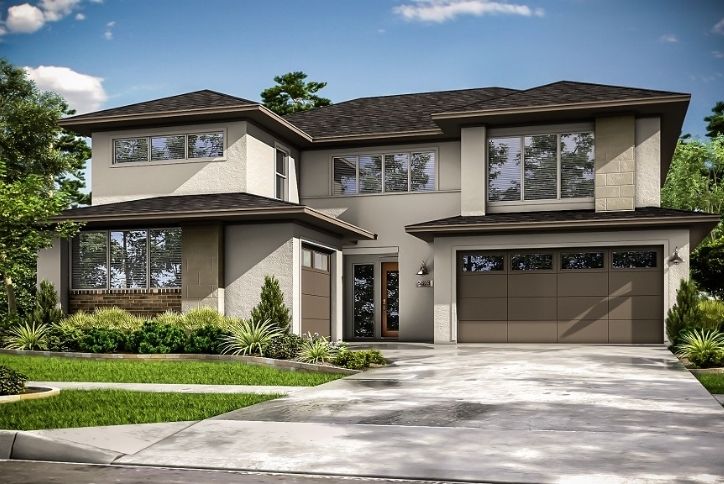 The Darling Modernist Collection features five floor plans priced from the $500s, ranging from 3,130 to 3,532 square feet. Each floor plan offers two exterior styles inspired by American architect Frank Lloyd Wright and the Prairie architectural style. A third option for each plan offers a Modern Farmhouse style.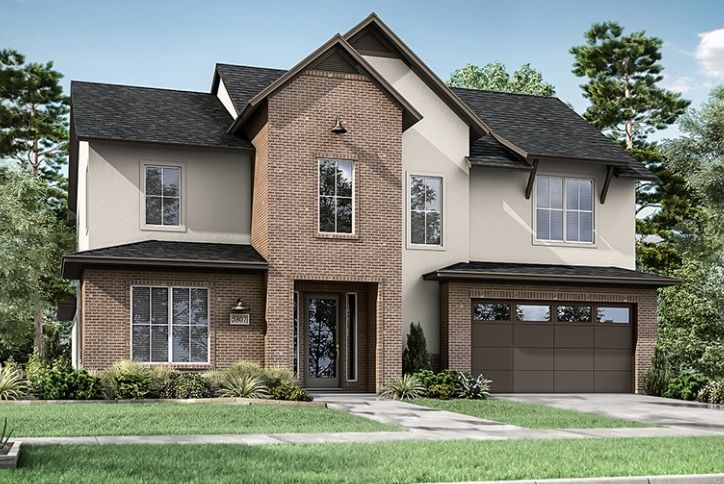 The collection emphasizes horizontal lines inspired by the open horizons of the Katy Prairie. Oversized windows are unobstructed by dividers, to let in natural light and enhance the connection between the home and nature. Hipped roofs emphasize the horizontal lines and open the front elevation to many more windows than traditional gabled roof designs. Deep roof overhangs add another Prairie style element while also protecting against the Texas sun.
Exteriors blend stucco, brick and wood in a palette of natural, earth tone colors. Colors are selected with the help of Taylor Morrison's architectural colorist, to create an appealing street scene throughout the neighborhood.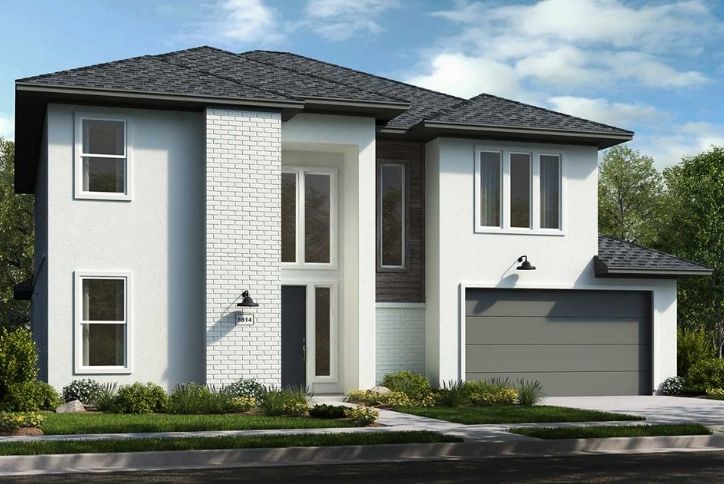 Inside, the emphasis is on clean modern lines, with open flowing interiors filled with natural light. Varied ceiling heights and broad horizontal fireplaces add to the architectural interest. Kitchen layouts are sleek and contemporary, with minimalist Shaker style cabinets. Upstairs, bedrooms, gamerooms and media rooms are moved to the front, so residents can enjoy the most natural light and views.
The Modernist Collection strikes a transitional balance of contemporary and traditional features without becoming niche or trendy, says Todd Rasmussen, Division President for Taylor Morrison. He predicts the collection will have strong appeal to young homebuyers who appreciate modern design and are ready to start families.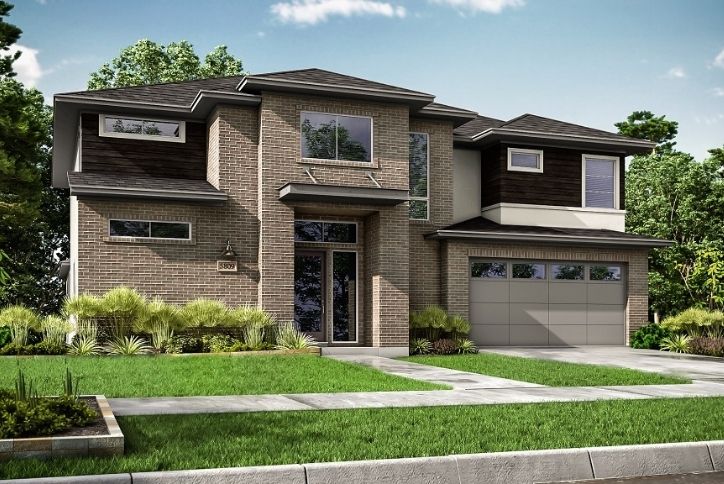 "The preferences of Houston home buyers have evolved far beyond traditional brick. There's a huge group of buyers who are ready for something new and fresh, and the Modernist Collection builds on their deep appreciation for contemporary design," Rasmussen says. "The collection strikes a fine balance that will allow homeowners to blend their existing collection of furniture pieces and décor seamlessly into their new home."
Reflecting Houston's status as the most diverse city in the United States, the Modernist Collection offers many options that could appeal to buyers coming from a wide range of ethnic backgrounds and household formations.
Plan 5805, which will be the model home in Elyson, offers an option for a catering kitchen, or spice kitchen, in addition to the main kitchen. Combined with an oversized utility room and mud room, the spice kitchen allows homeowners to cook with highly aromatic ingredients and not have odors infiltrate the rest of the home.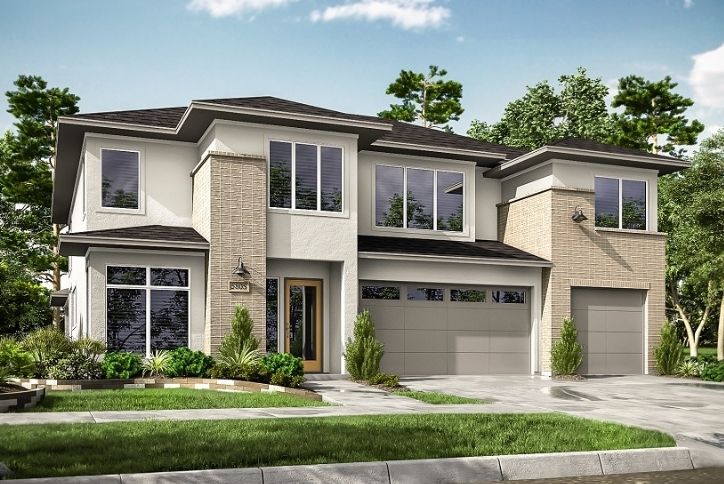 Second primary suites complete with en suite bathrooms and walk-in closets are also offered on several plans, in both downstairs and upstairs locations. Dual suites are an ideal solution for many types of households, including multigenerational families and other dual living situations.
Other options such as extended outdoor living areas, bay windows in primary suites, and sliding glass doors between patios and family gathering areas are designed to enhance the indoor/outdoor connection.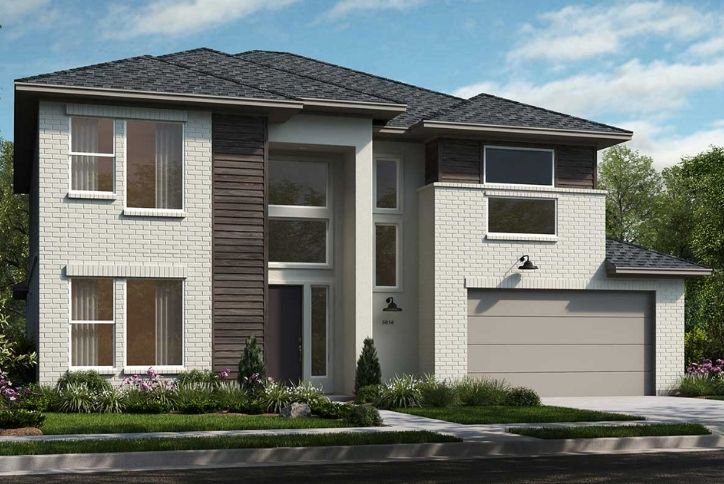 For the growing number of homeowners who work from home full- or part-time, most plans offer home offices along with options for pocket offices.
Fans of modern architecture will also find much to appreciate at Elyson. The community's first major amenity, Elyson House, introduced a modern reinterpretation of Prairie style architecture when it debuted at Elyson's grand opening in 2016. This Frank Lloyd Wright-influenced design language can also be seen throughout Elyson, in its entry monuments and other landscape features.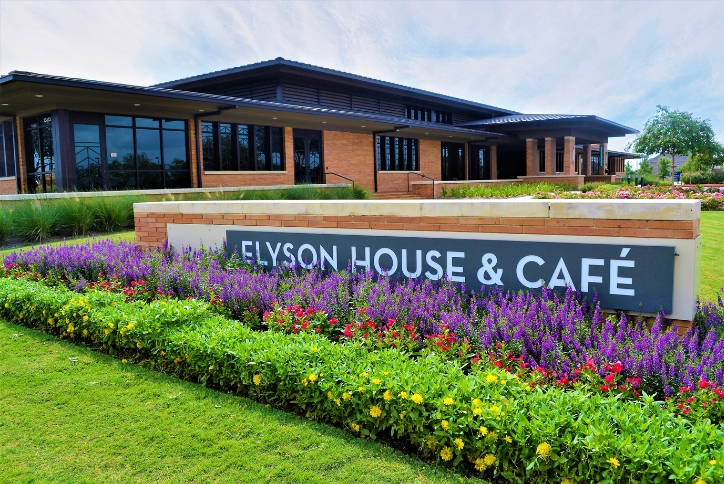 The Katy Prairie environment that has been so inspirational for the design of Elyson House and the Darling Modernist Collection is also being preserved throughout Elyson, which devotes more than 750 acres to recreational amenities and natural open space. Elyson's largest amenity, Elyson Commons at Bear Creek Park, preserves 145 acres for wildflower meadows, trails, a dog park, a Great Lawn, picnic areas and other amenities. Elyson's trail system will extend for more than 30 miles when completed, connecting homes to scenic waterfront parks, onsite schools, shopping and other amenities.