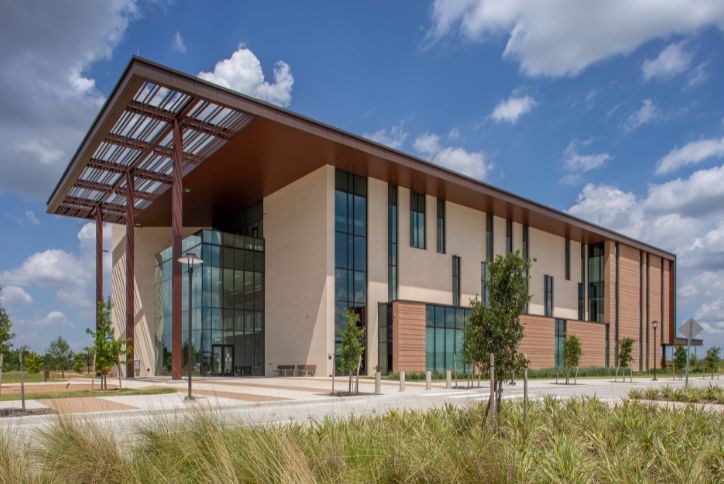 Higher education opportunities are opening up all around Elyson
From preschool through grad school, Elyson is located close to education for every stage of life.
We've blogged a lot lately about the K-12 education in and around Elyson, including innovative learning academies, new Katy ISD schools and the new Harmony School of Excellence – Katy.
Now it's time to look at higher education near Elyson, led by two exciting new facilities from the University of Houston and Houston Community College.
University of Houston at Katy
The University of Houston at Katy is offering several innovative programs at the first building at its 46-acre Katy campus. Known as University Center, this campus is located near the Grand Parkway and I-10 West, about 8 miles from Elyson.
UH at Katy is an instructional site of the University of Houston and part of the main campus, a Tier One research university. UH at Katy offers programs from the main campus as well as unique programs from the University of Houston – Victoria.
The three-story, 80,000-square-foot-facility is home to programs from the UH College of Nursing and the UH Cullen College of Engineering. These include a traditional Bachelor of Science in Nursing, and the prestigious Subsea Engineering program, the first in the nation.
The UH Cullen College of Engineering and Houston Community College have created a transition partnership, the UH/HCC Engineering Academy, providing a lower-cost pathway to a UH engineering degree. Students admitted to the Engineering Academy are UH Cullen College of Engineering students from day one, with classes taught at the HCC Katy campus and UH at Katy.
The new HCC Katy campus, opened in May 2022, is located directly across the street from UH at Katy, to provide students the opportunity to be co-enrolled at both institutions.
The University of Houston - Victoria at Katy shares space in the Katy Academic Building with UH at Katy. Both institutions offer upper-division and graduate level courses. The University of Houston-Victoria at Katy or UHV Katy, offers 23 undergraduate program options and 11 graduate program options in the areas of biology, business, computer science, counseling, criminal justice, digital gaming, education, health studies, kinesiology, and psychology. Learn more about UHV Katy's services and program offerings at www.uhv.edu/katy
With its first building now open, UH at Katy has plenty of room to grow. A near-term goal is to increase enrollment to 2,000 students by 2025. UH at Katy is also developing an expanded academic plan for current and future offerings.
Houston Community College Katy
Houston Community College opened its new $55 million Katy campus in May 2022, unveiling a 124,000 square-foot facility with 44 classrooms, 31 active learning spaces, multiple science and computer labs. It also has facilities for art, music and Makerspace labs.
HCC Katy is designed to promote an incredible learning experience, along with fostering student collaboration and engagement. Students are greeted by the Welcome Center, a one-stop shop for student services. There's also a Learning Commons that includes an open library, computer lab and tutoring services.
HCC Northwest College President Dr. Zachary Hodges said this campus represents a new concept in higher education.
"This is a concept in which students are actively engaged in their own education. It represents a 21st century campus for the 21st century student," Hodges said in a statement. "Our partnership with University of Houston allows students to start in Katy and finish in Katy. All of this adds up to a unique college experience for our students."
Learn more about education for residents of all ages at Elyson.
Photo of UH at Katy courtesy of Tellepsen Builders