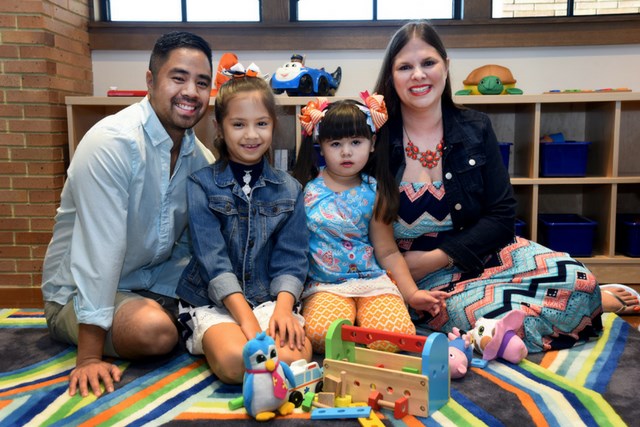 Durals making history as one of Elyson's "Founding Families"
When Elyson is completed, this 3,642-acre community in the Katy Independent School District will ultimately be home to about 6,000 families, and the Dural family will always have the distinction of being one of the community's first Founding Families.
When the Durals moved into their new Perry home in Elyson, it completed a year-and-a-half journey that began when they first learned that Newland was planning a new community at the Grand Parkway and FM 529.
"We began to ponder selling our home in south Katy last summer," said Jennifer Dural. "We researched a lot of communities in Katy, but we couldn't find a new master-planned community that was desirable. Living so close to Cinco Ranch made this decision difficult, as the area has great schools, and we love living two minutes from LaCenterra and everything within Cinco."
When the Durals learned that Elyson was coming soon as the newest Newland community in Katy and Houston, the family's home search was over.
"We feel like you can't go wrong with Newland," said Michael. "We both grew up in Katy, and we saw with our own eyes what a terrific job Newland had done in creating Cinco Ranch since 1991. The more we researched Newland, and learned about their national strength and philosophy of creating communities, we knew that Elyson would be our new home."
Katy ISD schools were another major priority for the Durals, who met in a driver's ed class at KISD's Mayde Creek High School and soon became high school sweethearts. Today, they are the proud parents of Ashlynn, 8, and Addison, 3.
"Our daughters are the whole reason we're doing this, and we couldn't be more excited about Bethke Elementary opening this past August, so close to Elyson," said Michael.
"For us, this move is about finding a strong master-planned community where we can put our roots down for our young daughters to grow up in. Michael and I both loved growing up in Katy, and we wouldn't want to raise our daughters anywhere else," Jennifer said.
As a bonus, Elyson is near Michael's parents' home, located in an acreage community a few miles west on FM 529. In fact, the family lived with both Michael's and Jennifer's parents for most of 2016, having sold their existing home soon after they decided to buy a new home in Elyson.
Elyson's location also provides an easy weekday commute for both Michael and Jennifer. Both are accountants, with Jennifer working in the Energy Corridor and Michael working closer to downtown. "I can get to work in 30 minutes, and Jennifer's commute is even shorter," Michael said.
The Durals chose Perry's Design 3261 because a dramatic rotunda foyer ranked high on the couple's list of priorities. Beyond the breathtaking spiral staircase is a family friendly home with an open kitchen and great room area, a gameroom, a formal dining room and a quiet study. The home has four bedrooms, and both Ashlynn and Addison have already picked out their own bedrooms.
"We would like to give a special thanks to our family, to Realtor Andy Gleason and The Franklin Team, to Kimberly Boyd with Perry Homes, and to Newland for all of their help in making this a very special chapter in our lives," said Jennifer.
To start your own search, visit the interactive Homefinder.