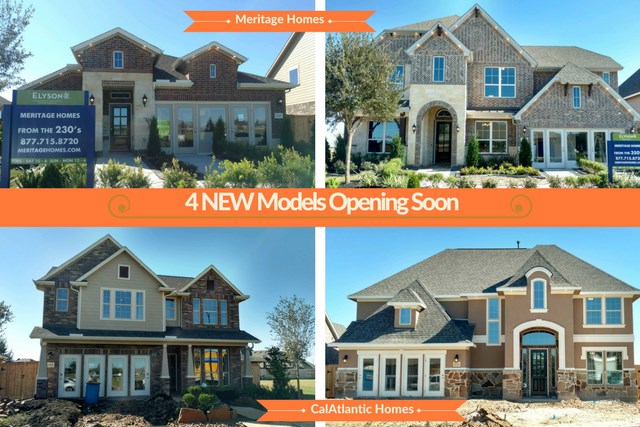 Elyson adds new homebuilders and new price ranges from low $200,000s
Elyson has added two new homebuilders offering new homes starting from the low $200,000s. 
CalAtlantic Homes and Meritage Homes have joined the roster of leading homebuilders in Elyson, with plans to open four fully furnished model homes in Elyson's Model Home Village in November.
Both CalAtlantic and Meritage will build in two new Elyson neighborhoods with a total of 151 new homesites.
One neighborhood will have a total of 73 45-foot-wide homesites, with home prices starting from the $220,000s and home plans ranging from approximately 1,470 to 2,540 square feet.
Another neighborhood will have 78 60-foot-wide homesites. Prices will start in the mid $300,000s, with plans ranging from approximately 2,760 to 3,790 square feet. Some homesites in this neighborhood will border a scenic creek along Elyson's greenbelt trail system, which will ultimately extend for 30 miles within the community.
Both neighborhoods are adjacent to a 13-acre school site that has been purchased by the Katy Independent School District for a future elementary school in Elyson. Both are also near Elyson House, Elyson's first major amenity center.
Both CalAtlantic and Meritage plan to start construction of their first available homes in Elyson in October, with move-in dates available in early 2018.
Elyson already has 10 fully furnished model homes by its homebuilder team, which also includes Chesmar, Darling, David Weekley, Highland, Perry, Pulte, Trendmaker and Westin.
Elyson opened last fall and has sold more than 170 new homes in its first year. It is the fourth community being developed by Newland in the Katy Independent School District, following Cinco Ranch, which opened in 1991 and will be mostly completed at the end of this year. Newland has also developed Seven Meadows and Grayson Lakes in Katy.
Elyson's master plan includes more than 750 acres devoted to recreational amenities, parks, trails, lakes and natural open spaces. Its first major amenity, Elyson House, has Prairie-style architecture inspired by the homes of Frank Lloyd Wright. It includes a café, game room, meeting room, fitness center, event lawn, playground and a year-round swimming pool. New tennis courts will be completed in 2018.
Students living in Elyson attend three new schools in a K-12 tri-campus located approximately two miles from the community.  The tri-campus includes Bethke Elementary, opened in 2016, along with Stockdick Junior High and Paetow High, both opened in 2017.