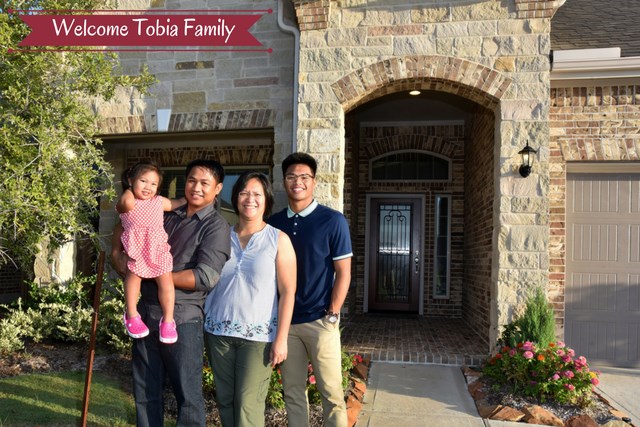 Tobia family happily moves into GHBA Benefit Home in Elyson
As a nurse, Gay Tobia loves to help people. So when she found out that the new home her family had chosen in Elyson was a GHBA Benefit Home, she was excited to be part of a project that helps charities dedicated to ending homelessness.
"Proceeds from the Benefit Home will impact peoples' lives for the better. We are excited to be part of it," said Gay, who works in a Katy area hospital.
Built by Chesmar on a homesite donated by Newland, the developer of Elyson, the 2017 GHBA Benefit Home is a project of the Greater Houston Builders Association.
The Benefit Home is sold at actual market value, with donations from Newland, Chesmar and many other GHBA members making it possible to donate a majority of the proceeds to the project's beneficiaries, HomeAid Houston and Operation Finally Home.
The Tobia family moved into their very special new home in Elyson in early October. The family includes Harry, Gay's husband, and children Kyle, 18, and Khleo, 2.
With Gay expecting a new child, due in the spring, the family starting searching for a larger home this summer. They wanted to stay in the Katy area, where they had lived for the past 10 years, primarily for the schools.
Harry discovered Elyson while exploring the thriving area along the Grand Parkway, between I-10 West and U.S. 290 West.
"We immediately liked Elyson. It has a very warm and family friendly feeling, and the community representatives at Elyson House made us feel very welcome," Gay said. "We also love to spend time outdoors, so we loved the trails and the playground."
Their Realtor had recommended Chesmar Homes as a Houston-based builder with an excellent warranty program, and the family loved Chesmar's model home in Elyson, the two-story Poplar.
With four bedrooms, an open family room and gameroom, this 2,733-square-foot home offered plenty of space for the growing family.
At about the same time they decided on Elyson and Chesmar, the family's existing home in Katy quickly attracted an offer, so there was suddenly some urgency to move. It turned out that Chesmar had a completed Poplar plan in Elyson that was ready for immediate move-in. It also turned out that same Poplar was the 2017 GHBA Benefit Home.
"We loved the Benefit Home because GHBA members had provided so many wonderful upgrades, like hardwood floors, granite countertops and stainless steel appliances," Gay said. "It didn't take long for us to decide this would be our new home."
Since it began 37 years ago, the GHBA Benefit Home has raised more than $10 million for charities. For 2017, beneficiaries include HomeAid Houston, a GHBA-sponsored charity that helps build transitional facilities for organizations working to end homelessness. The other beneficiary, Operation Finally Home, provides new mortgage-free homes for U.S. veterans and their families.
Learn more about the GHBA Benefit Homes Project, and take a virtual tour of Chesmar's Poplar model home in Elyson.