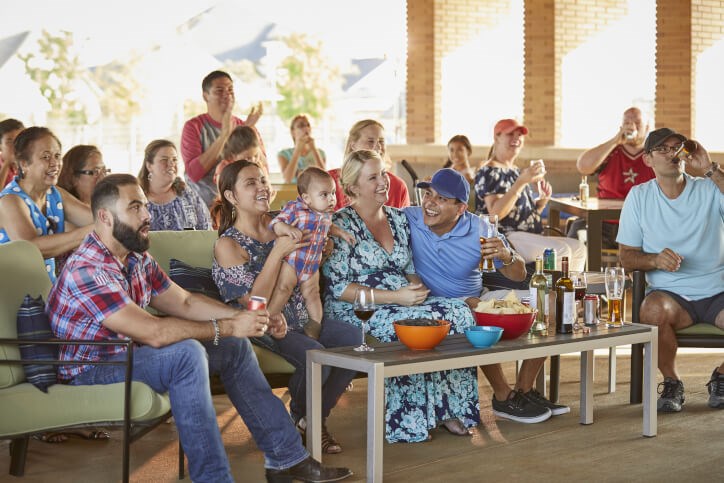 Residents find new friendships, feelings of community at Elyson
We hear so many residents talk about the fast friendships and immediate sense of community they find at Elyson, we wanted to share some of their stories.
Before they moved to Elyson, B.J. and Amanda Horton said they hardly knew anybody in their old northwest Houston neighborhood, despite the fact that they had lived there for five years.
"In our first two months at Elyson, we met more neighbors than the entire time we lived in our old neighborhood," said Amanda. "Our kids have met many wonderful new friends their own age, and B.J. and I have met lots of fellow parents."
Elyson's amenities and activities are the first places where new residents like the Hortons meet fellow residents.
"In our old neighborhood, the only amenities were a pool and a tennis court. We never used them, because the neighborhood just didn't feel connected socially, and the amenities weren't in the best condition," B.J. said. "At Elyson, we use the pool and playground at Elyson House almost every day when we can, and we love the community events."
The Doleman family agrees. Though they moved to Elyson primarily because of its highly regarded Katy ISD schools, they also wanted to experience a stronger sense of community.
"Our old neighborhood had a pool and a couple of small parks, but it wasn't really a lifestyle. We knew a couple of neighbors, and that was about it," said Brad Doleman. "We wanted a community that was a real community, where the residents got together and enjoyed family activities. At Elyson, we found much more than we had originally gone out looking for. We are very happy."
The Mendez family also enjoys using Elyson's amenities and taking part in community activities, but they say that some of the best times happen spontaneously, right in their own cul-de-sac.
"We lucked out in getting the most fun group of neighbors in our cul-de-sac. We all sit outside and play with the kids at least twice a week," said Maria Mendez.  "We feel like we have put down roots in Elyson, and we can see staying here until the kids graduate from high school."
Families without children at home also find Elyson to be a very welcoming community.
"Elyson genuinely feels like a true community, which is something I have never felt that in any place I've lived before," says Joe Lee, who moved to Elyson to live with his mother. "The staff at Elyson House is always so friendly and helpful whenever I have a question. They have always helped us feel like we're at home."
For some residents, Elyson Cafe is a great place to meet neighbors over lunch or coffee, or at one of the Friday night dinners featuring wine and live music.
The café is one of Randy Kilpatrick's favorite things about Elyson.
"When we first discovered the café while shopping for our new home, it was a huge positive for us. We saw it as a very unique amenity, and a good sign of things to come," Randy said. "The staff is very friendly and always eager to please. The food is very good and they're always adding something new."
Read more resident stories from Elyson and learn what makes Elyson so special.