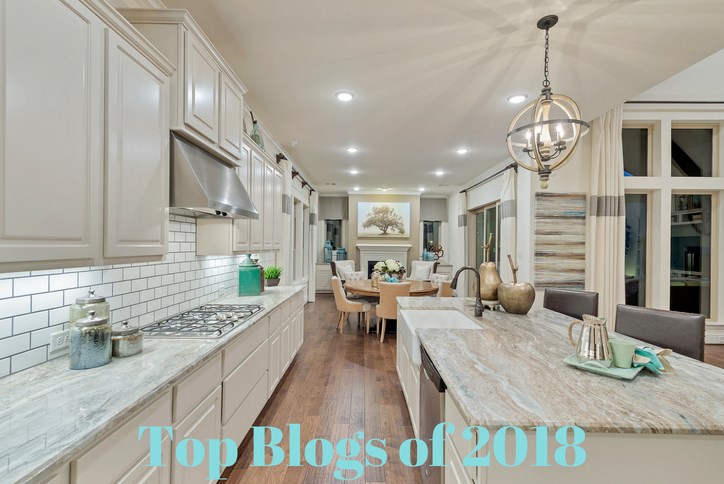 From new-home trends to schools, here are our Top 6 blogs of 2018…so far
Our blog readers love stories about home design trends and other aspects of homeownership. They also love news and profiles about our highly regarded Katy ISD schools. Here are our Top 6 blogs for the first half of 2018.
Color trends. Color is an easy and powerful way to change the mood of a room or an entire home. Our blog on 2018 color trends looked at how one Elyson model home, David Weekley's one-story Roth, used a beautiful spruce blue color for the doors and other trimwork throughout. This soft blue shade is a dead-ringer for Behr Paint's first-ever Color of the Year, called In the Moment.
Why new. Our blog on 7 great reasons why new homes are better than used ones really struck a chord with readers. In a quick and easy-to-read infographic format, this blog listed the top advantages of new homes, from warranties and energy efficiency, to the latest technologies and design innovations.
Model homes we love. We love our model homes at Elyson, and apparently our readers do, too. The first in our series of blogs about unique design features in our Model Home Village included Instagram-worthy photos of glass-front cabinets, dramatic wall treatments, outdoor living areas and more.
Growing young minds. Our blog about the Learning Garden at Bethke Elementary School was a hit, explaining how this Katy ISD school is using its new veggie garden to teach kids about science, nutrition and more. It also included a fun time-lapse video showing the garden being built by volunteers.
The benefits of MPCs. What's the difference between a master-planned community (MPC) and a subdivision or neighborhood, and what does that mean to residents? Our blog on 5 of the major advantages of living in an MPC like Elyson made the difference easy to understand.
Meet the Principal. Being called into the principal's office might bring back not-so-fun memories for some, but our readers loved meeting Paetow High School Principal Mindy Dickerson, who explained how she has worked to create a "culture of caring" since this gleaming Katy ISD school opened in 2017.
Some of our other most popular blogs have profiled many of the Founding Families of Elyson. Read their stories.