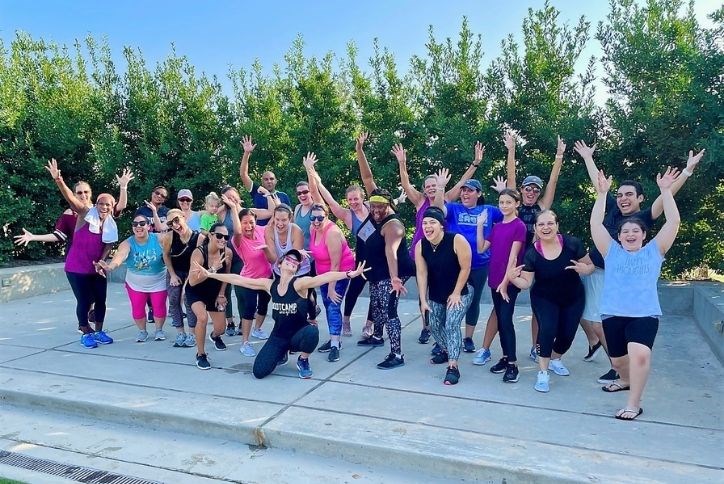 Elyson offers new ways to work out and stay fit
With the opening of Elyson Commons at Bear Creek, Elyson has more ways than ever for residents of all ages and abilities to get fit and stay in shape. And because feeling connected is so important to our overall health, Elyson also has ways to exercise your social muscles along with your abs and glutes.  
Take a look at everything Elyson offers, from low-impact activities like pickleball and water aerobics, to more rigorous workouts like pumping iron and trail running.
24/7 Fitness Center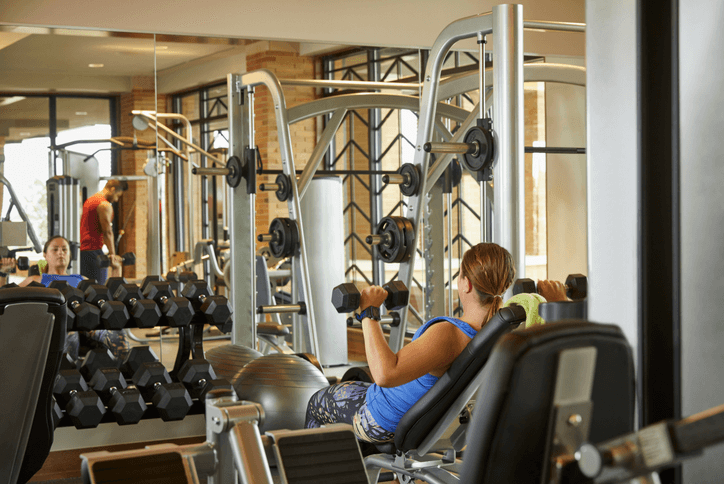 The spacious indoor fitness center at Elyson House offers an excellent selection of cardio and weight training machines, with motivating views of Elyson's Katy Prairie-inspired landscaping. This amenity also has some thoughtful details you might not notice at first, so let us point them out. First, it has a glass-enclosed kid's play area, so you can keep an eye on the young ones while they have fun too. Second, the rustic wood ceiling paneling is one of several Elyson House details that have been salvaged from this land's agricultural heritage. It was originally located in one of the rice dryers. You can find other historic details in the game room and café area.
Outdoor Fitness Training Park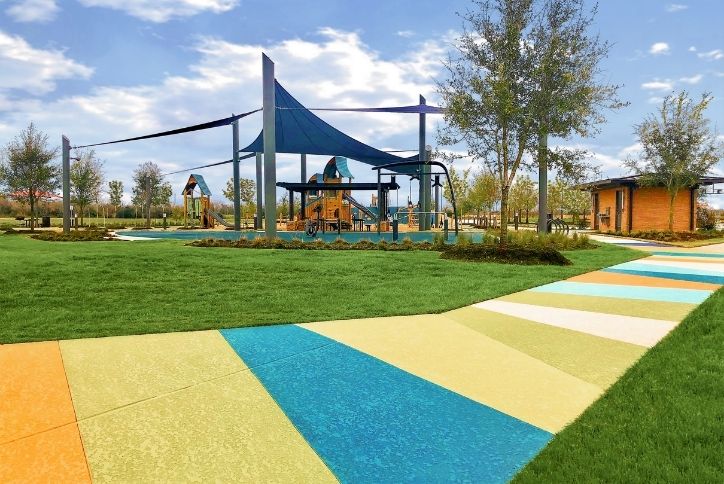 One of Elyson's newest fitness offerings is the Outdoor Fitness Training Park at Elyson Commons at Bear Creek. This amenity has a hill climber rope and a suspension trainer with scalable resistance, offering a total of 49 possible exercises. An adjustable stationary bike with a touchscreen allows you to adjust the resistance and other variables. This park also has parallel bars and a decline bench for core trainer, along with sun shades.
Sports
If enjoying team sports with friends and neighbors is your thing, you'll find opportunities all over Elyson. There are tennis courts at Elyson House, and pickleball and bocce ball courts at Firepit Park. Our newest park, Elyson Commons, has a multipurpose playing field that can be used for baseball, football, soccer and other games. Elyson Commons also has a basketball court. You can even work out with your dog – how about a game of catch at the Pooch Playground at Elyson Commons?
Fitness Classes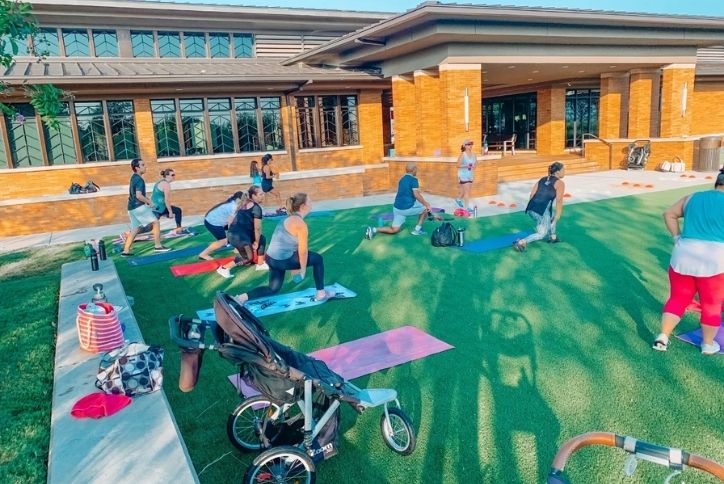 Elyson offers a growing number of group fitness classes* where you can get fit while making new friends. One of our first (and still most popular) classes is Aqua Bootcamp at the Elyson House pool. Offered on Saturday mornings during the summer months, it offers a great low-impact, full-body workout for neighbors of all ages. Yoga is offered on Mondays and Thursdays at Elyson House. Our newest class is Fitness Bootcamp on Saturday Mornings from Strongbird Fitness at Elyson House.
Trails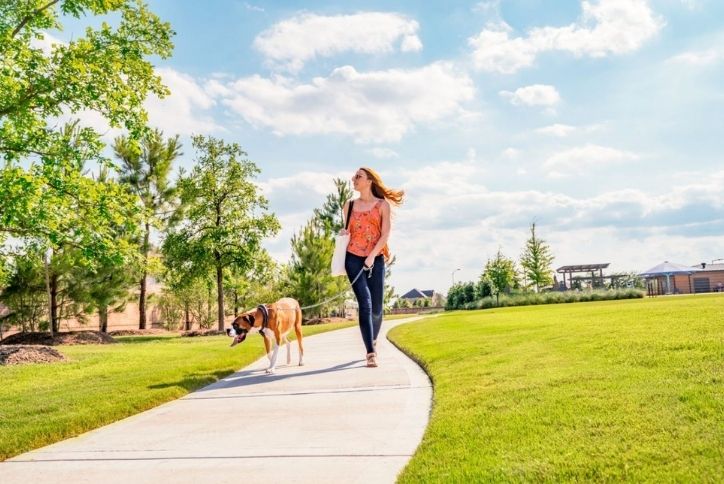 Whether you use them for jogging or walking, or you have a bike or some other form of wheels, Elyson's trails offer a big benefit for your fitness routine. As a key part of our vision to provide more than 650 acres of parks, trails and natural open space, Elyson's trail system will extend for more than 30 miles when completed. One of the newest additions, Wildflower Trail, is a 1.4-mile loop that meanders through meadows of wildflowers and other native plantings in Elyson Commons. It also connects to the main trail system. With its crushed granite surface, Wildflower Trail offers a new choice in addition to Elyson's concrete trails.
Swimming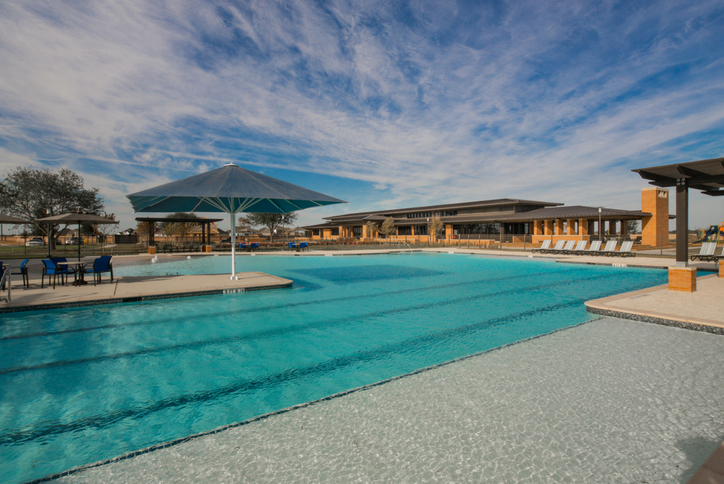 Swimming is one of the best low-impact, whole-body exercises, and the big swimming pool at Elyson House is open 365 days a year. You might not want to swim in the middle of winter – though some of our many residents from northern climes don't mind – but there are many months beyond the traditional Houston pool season when you can enjoy getting in the water. Please note that lifeguards aren't present outside of the summer swim season.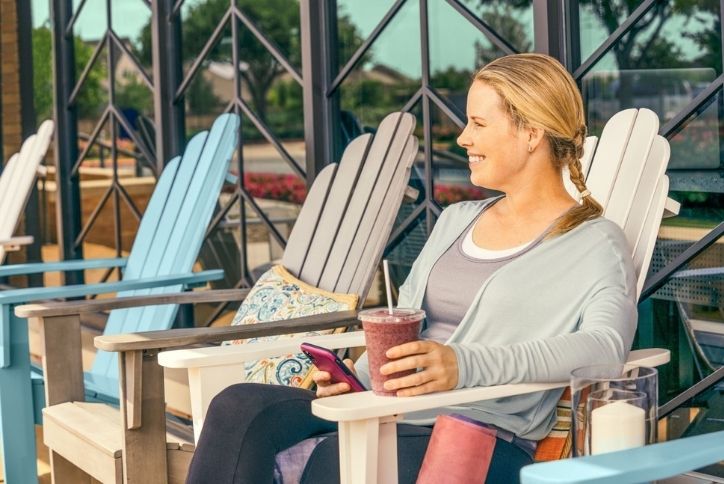 Don't forget that Elyson Cafe offers a variety of healthy options after a great workout including smoothies, salads and grain bowls.
*Fitness classes do have an additional charge.