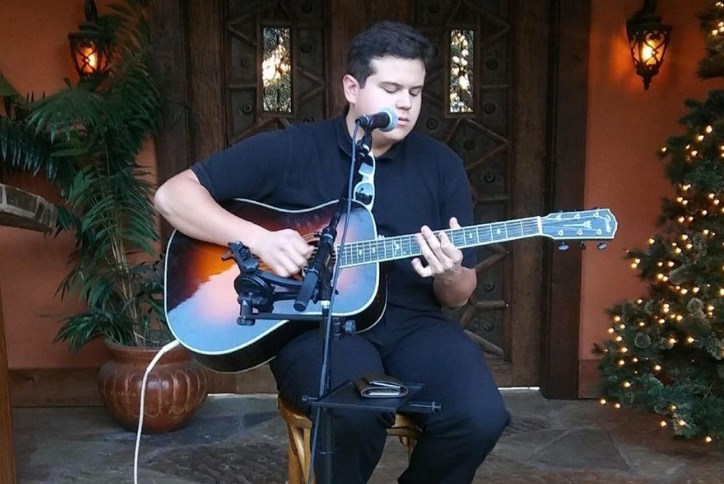 Elyson resident Alejandro Miramontes entertains at Elyson Café's Friday Night Dinners
Elyson residents who enjoy the popular Friday Night Dinners at Elyson Café have become accustomed to seeing a familiar face on the live music stage. Talented singer/songwriter Alejandro Miramontes, who lives in Elyson with his family, is the regularly featured musician at these dinners.
Now 23, Alejandro graduated from Katy High School, where he was the lead guitarist with the school's Jazz Band. He went on to graduate from Texas State University, majoring in Jazz Studies and Guitar Performance, with a minor in Business Administration.
Alejandro began to show an interest in music at an early age, teaching himself to play piano at the age of five. By the time he was 10, he began training in percussion, followed by electric bass and guitar.
He has participated in numerous Battle of the Band competitions and talent shows. One of his original compositions, "View of Memories," won first place at a talent show in 2012.
Alejandro performs in a variety of genres, including jazz, pop and rock. Watch him perform one of his favorite covers.
In addition to Friday evenings at Elyson Café, you can also hear him on Thursday and Saturday evenings at the d'Vine Wine Bar & Bistro in Cypress (another great thing about Elyson's location, right between Katy and Cypress).
Learn more about Elyson Cafe. Residents and visitors alike are invited to enjoy this unique Elyson amenity during regular hours and special events such as Friday Night Dinners and new quarterly Wine Dinners.