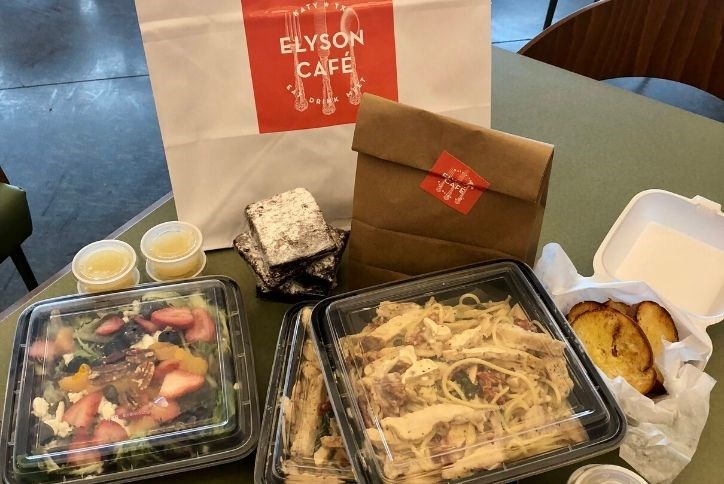 Take home a family meal for 4 from Elyson Café
There are a growing number of restaurants close to Elyson, but none is closer than Elyson Cafe, a tasty amenity located inside Elyson House, the community's flagship amenity.
One of Elyson Café's most popular offerings is Family Meals for 4, a tasty and convenient solution for weeknight dinners as well as weekend gatherings.
Available for takeout every night except Monday, when the café is closed, these meals offer a choice of six popular entrees, with each including bread and a choice of salad and dessert.
Entrée choices include Chicken Parmesan with Fettuccine Alfredo, Tuscan Chicken Spaghetti, Spaghetti Aioli with Chicken, Spaghetti and Elyson Café Meatballs, Creamy Cheesy Chicken Spaghetti, and Chicken Alfredo Fettuccine. Gluten free pasta is available with all meals and most meals can be made vegetarian.
Salad choices include Caesar Salad (with or without almonds), Italian Lime Salad, Sunset Salad or House Salad. For dessert, there's a choice of Cookies or Brownies, both freshly baked.
All Family Meals for 4 are $35, except for Chicken Parmesan, which is $39.
It's easy to order a meal with the online order form. Same-day online orders are accepted up to one hour before the café closes each day at 5:30 p.m. For later orders, call the Café at 281-371-3379.
Elyson Café offers a diverse seasonal menu for dining in and takeout every day. Choices include appetizers, scratch-made soups and chili, and signature salads.
Pasta entrees with natural homemade sauces are another specialty of Elyson Café, along with rustic flatbread pizzas and burgers. Other choices include sandwiches, paninis, desserts and coffees.
Elyson Café also offers Friday Night Dinners with live music, along with themed international wine dinners. Patio and poolside service are available during the warmer months, along with catering. Local craft beers, wines and housemade Sangria round out the popular menu.
For more dining choices near Elyson, discover some very tasty under-the-radar restaurants.